Plaza de Oriente
Plaza de Oriente is the square in front of Madrid Royal Palace and as its neighbourhood would suggest, it is a very beautiful place. There are gardens on two sides of the square: Jardines del Cabo Noval (north) and Jardines Lepanto (south). There is also a fountain in the middle. Unlike other nearby places and despite its central location, Plaza de Oriente is usually a very quiet and peaceful place.
Although Plaza de Oriente may sound like an eastern square, it is actually located in the western part of Madrid city centre. The reason for its name is that it is to the east of the Royal Palace.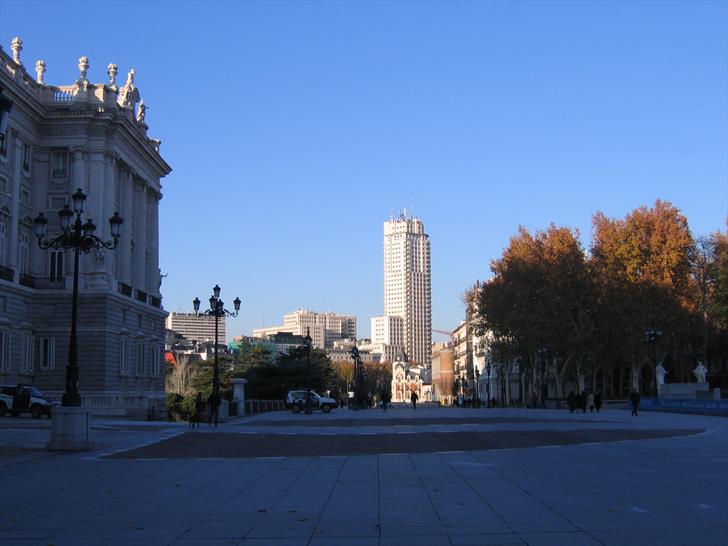 This is the western end of Plaza de Oriente. Madrid Royal Palace is on the left, Plaza de Oriente on the right, and in the background there is Torre de Madrid and Plaza de España.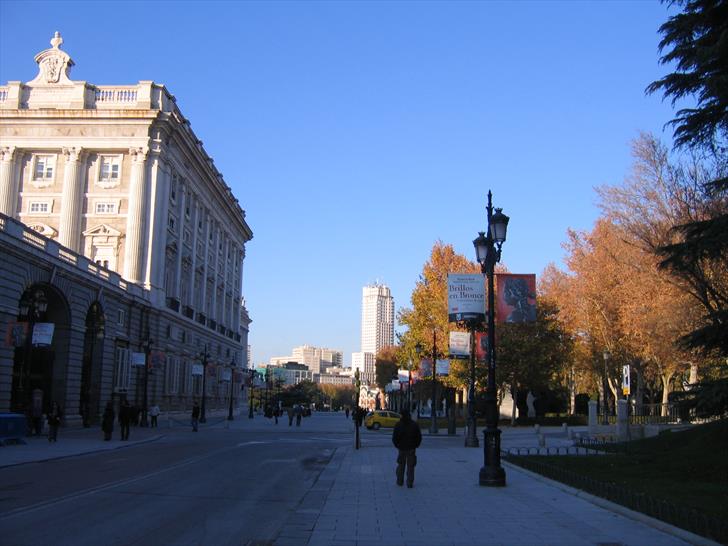 This is the Royal Palace (Palacio Real de Madrid) as seen from Plaza de Oriente. It is the official seat of the Spanish King, although the royal family resides in another palace and Palacio Real is mainly used for official purposes.
How to Get to Plaza de Oriente
The metro station closest to Plaza de Oriente is Opera, served by metro lines 2 and 5 (and the R from Principe Pio). The metro station is situated next to the Royal Theatre on the eastern end of Plaza de Oriente.
There are also a few bus lines stopping at Calle de San Quintín N 10 and Bailen – Mayor bus stops. The first is behind Jardines del Cabo Noval, the second is about 3 minutes walk from Plaza de Oriente at the intersection of Calle Bailen and Calle Mayor.