Warsaw Metro
Warsaw has a relatively small and young metro network, compared to most other European capitals. The underground system consists of two lines, with the second opened only in 2015.
The first line (M1) runs approximately north-south and connects Warsaw city centre with densely populated residential districts in the north and south. The terminal stations are Mlociny and Kabaty. The first part of this line was opened in 1995.
The second line (M2) runs approximately east-west, so the entire Warsaw metro network makes a kind of cross on the map. Coincidentally, the interchange station's name is Swietokrzyska, which means Holy Cross Street / Station in Polish.
Metro Station Design
This is the typical looks of metro stations in Warsaw – this one is Pole Mokotowskie: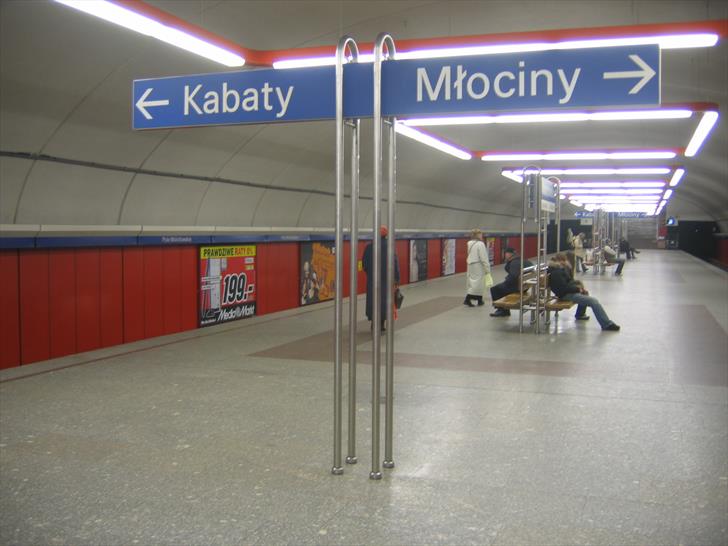 Mlociny and Kabaty are the two terminal stations of the first Warsaw metro line.
All Warsaw Metro Stations
Line M1
Mlociny
Wawrzyszew
Stare Bielany
Slodowiec
Marymont
Plac Wilsona
Dworzec Gdanski
Muranow (planned)
Ratusz Arsenal
Swietokrzyska – change to M2
Centrum
Plac Konstytucji (planned)
Politechnika
Pole Mokotowskie
Raclawicka
Wierzbno
Wilanowska
Sluzew
Ursynow
Stoklosy
Imielin
Natolin
Kabaty
Line M2
Ksiecia Janusza (planned)
Moczydlo (planned)
Wolska (planned)
Rondo Daszynskiego
Rondo ONZ
Swietokrzyska – change to M1
Nowy Swiat-Uniwersytet
Centrum Nauki Kopernik
Stadion Narodowy
Dworzec Wilenski
Szwedzka (planned)
Targowek (planned)
Trocka (planned)