When I first arrived in Tenerife and saw the billboards and ads promoting Loro Parque all over the island, my first impression was that Loro Parque was just another tourist trap and over promoted attraction. Its tagline is El "must" de Canarias, which in my particular case had the opposite effect than intended. Although I lived in Puerto de la Cruz for several months, I didn't think of visiting the park until my friends came to visit. Then when I finally saw the inside of Loro Parque, I changed my mind and really liked it. Although not everything was perfect or 100% to my taste, overall I considered it a day and money well spent (and I've visited the park again since). On this page I try to provide an honest review, plus a few tips to make your visit smoother, better and more enjoyable.
El "must" de Canarias
Sure, Loro Parque is still a well managed scheme designed to extract money from tourists. It is basically a combination of a theme park and a zoo and for the visitors a combination of entertainment, education and environmental awareness session.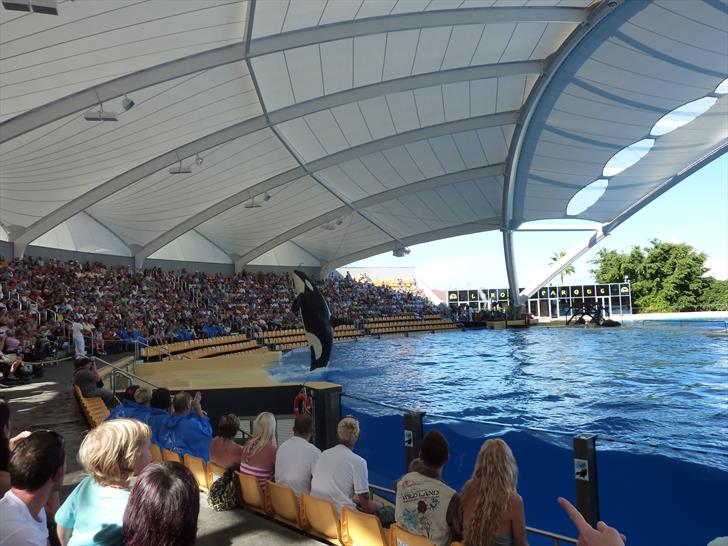 Loro Parque was first built in the 1970's and dedicated solely to parrots (hence the park's name). It claims to have hosted the first parrot show in Europe back then. Over time, other animal species were added and today parrots represent only a small part of the park's menu.
For example, there is the classic dolphin show (and a very good one):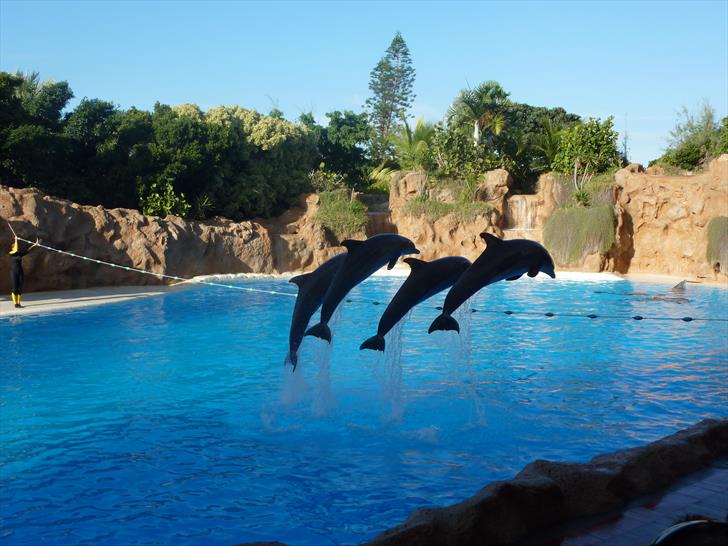 Loro Parque Animal Shows
Orcas
The Orca Ocean show is probably the greatest and most unique attraction of Loro Parque. After all, a whale's tail is featured on the park's logo together with two parrots. Loro Parque's Orca Ocean is not just another show featuring big fish jumping from the water and waving tail – it is very well arranged in an interactive and exciting way and you can feel the power these gigantic animals have. Beware – you may get very wet if you sit in the so called "splash zone" in the first few rows (and I mean very wet). On a big screen hanging above the pool you will also see a short movie documenting the birth of the 4 orcas kept in Loro Parque and their air transport from the US Sea World to Puerto de la Cruz.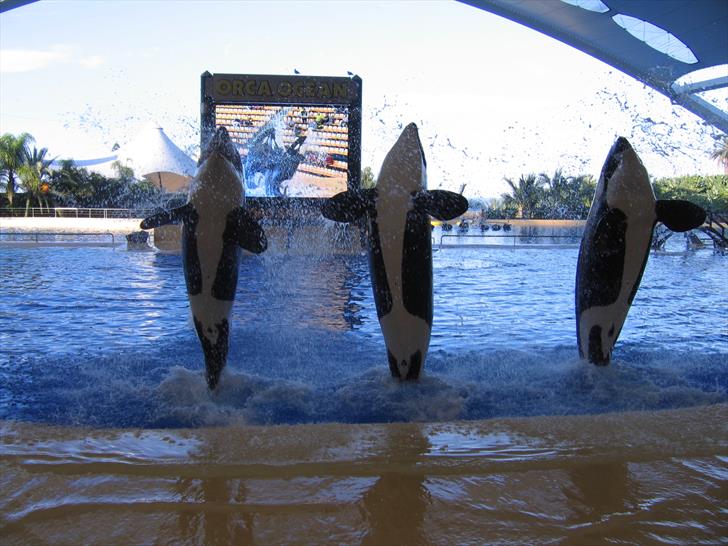 Dolphins
If you've been to other water parks with dolphin shows before, you will likely not see much new in Loro Parque. Nevertheless, the dolphin show is still very well done and features about 7-9 animals and 3 keepers. You will see some big swimming and jumping action (by both the dolphins and the keepers). If you have small children, they may get involved in the show and take a short ride in a boat powered by a dolphin (you'll need to arrange this before the show starts).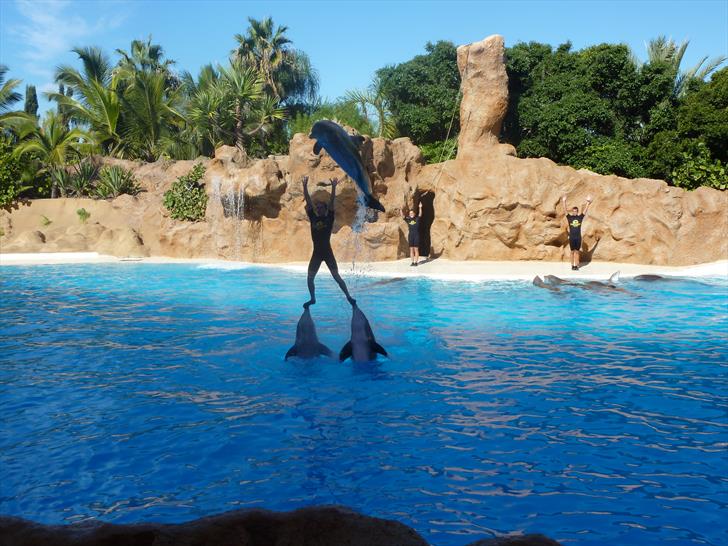 Yes, it's both the dolphins and the keepers doing the show.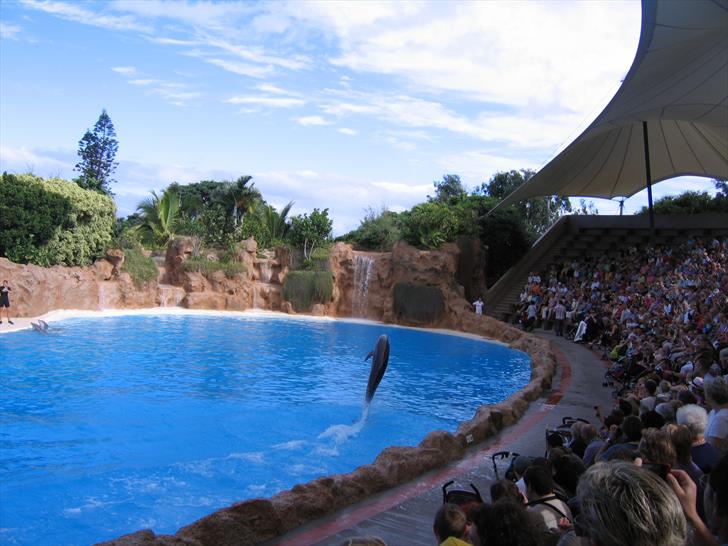 Sea Lions
The sea lion show is probably the one where the animals and keepers look best aligned. The show is a good mix of artistic action and fun. It is amazing how these animals can keep balance when sliding on a small slide while keeping a ball on their nose (and not losing the ball even when they eventually splash in the water). One of the sea lions briefly leaves the exhibit at one moment during the show to greet a few spectators from immediate proximity. Like orcas, the sea lions also have a "splash zone".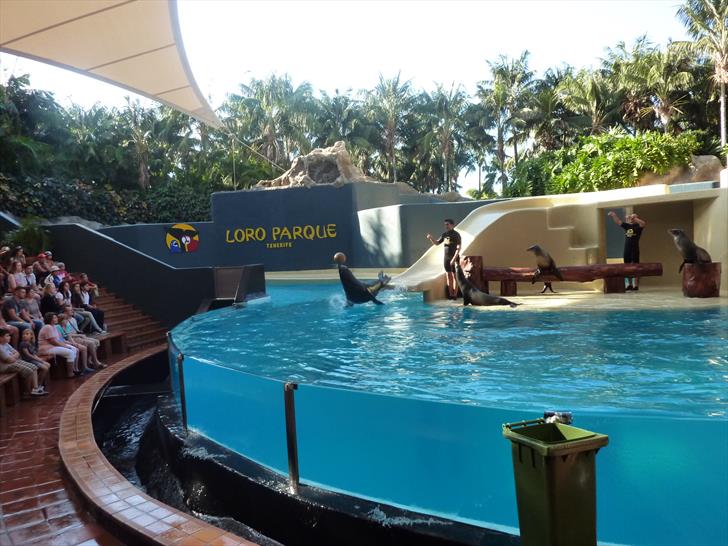 If you like, you can get really close to the animals in Loro Parque: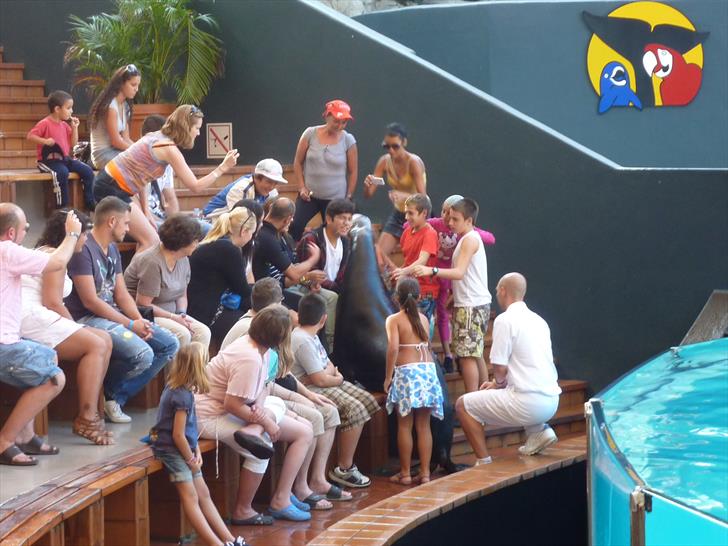 Parrots
The parrot show is what made Loro Parque's name first. Unlike the other shows it is located indoors and features about (my estimate) 20-30 parrots. They speak, ride a bike or a toy car, perform simple maths exercises, and fly so close above your head that you can feel the wind from their wings. There is also one parrot buying a beer from a vending machine and acting drunk soon after. Though the parrot show is not as magnificent as the orcas or as much action as the dolphins or the sea lions, it is worth a visit.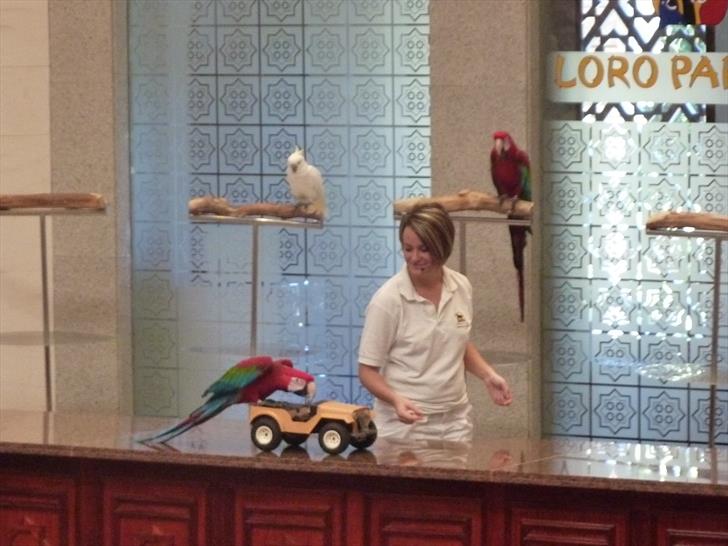 Plan Your Visit
All these shows have specific timetables, which you will get at the park's entrance. It is worth spending a minute on some rough planning, so you won't end up missing a show by a few minutes. I would recommend to visit these shows first and only then see the other parts of the park (below), which you can visit at any time. You may also want to visit the same show for a second time in the afternoon if you particularly like it (there are often much fewer people at the late afternoon shows).
Other Attractions in Loro Parque
Planet Penguin
In the Penguin Pavilion you will see penguins from South America (Humboldt Penguins) and Antarctica. Loro Parque claims that their Planet Penguin includes "the biggest replica of the Antarctic continent ever constructed". There is real snow and real ice inside.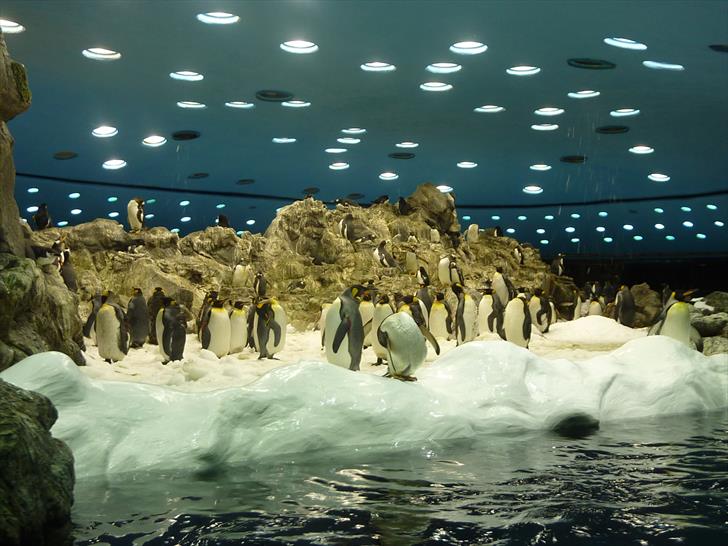 Aquarium
The Aquarium is an opportunity to see various species of fish and sea life from close proximity. There is a coral reef made by combining Tenerife volcanic rocks and corals brought from Indonesia.
In the 18-metre-long Shark Tunnel you can see how shark's teeth look like in detail (the sharks swim directly above your head). If you read the detailed text information on the panels, you will learn a lot about sharks (and realize that sharks are much less dangerous to people than people are dangerous to them).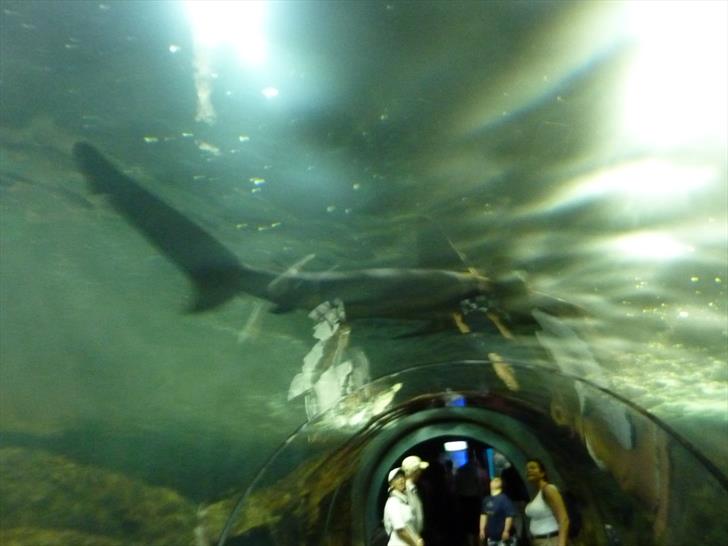 One of the most popular attractions in the Aquarium is the "Nemo" fish: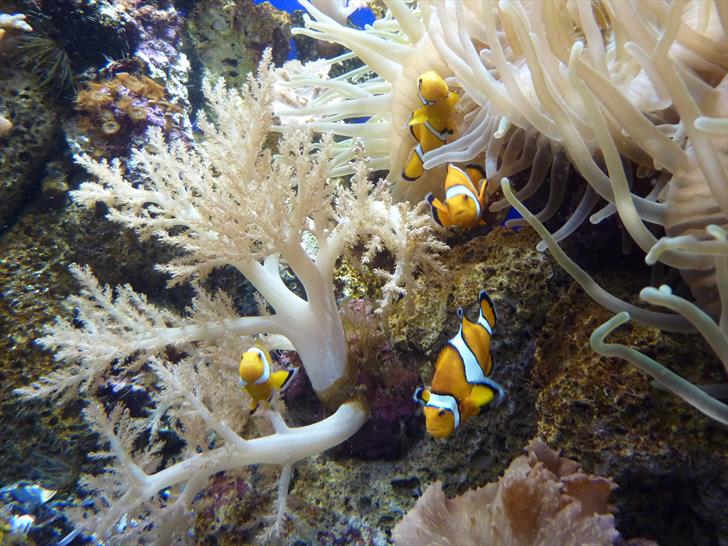 Other Animal Exhibits
Besides 350 species of parrots you will see exhibits with tigers (they are quite lazy), apes (one of the gorillas was a big showman), a giant turtle and many other animals.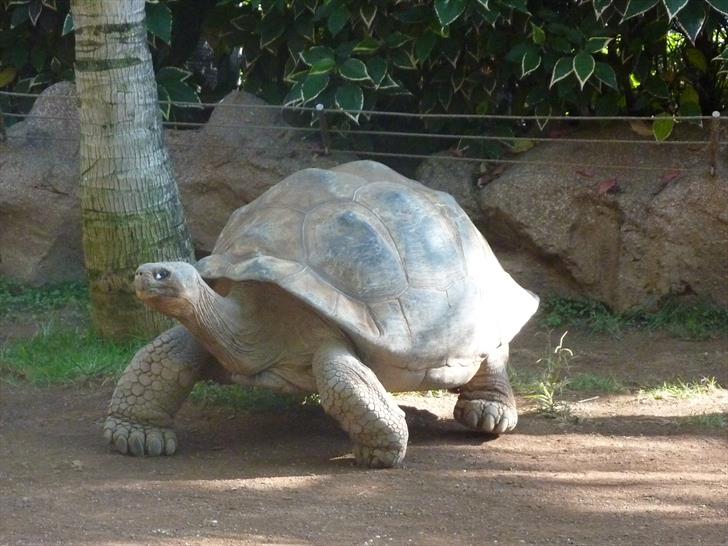 In Katandra Treetops, which feels like a jungle, you can climb high in the trees and watch birds eat grain or drink water from as close as half a metre.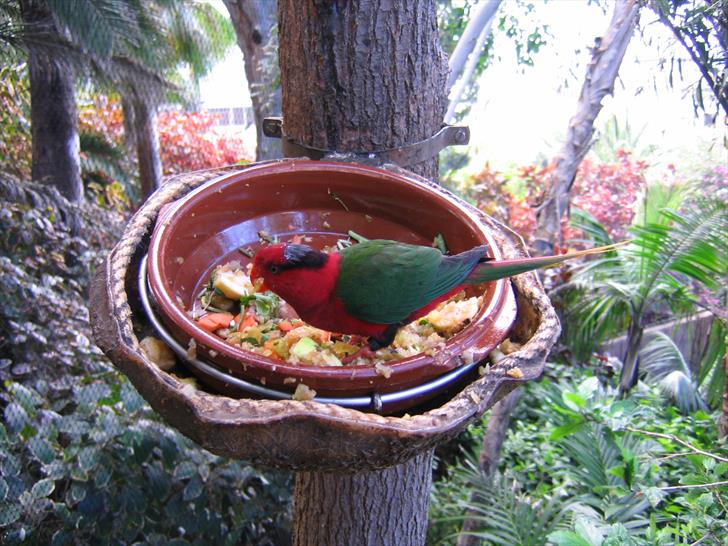 Vegetation
Besides the animals, there is Orchidario (Orchid Garden) and various exotic trees and plants all over Loro Parque.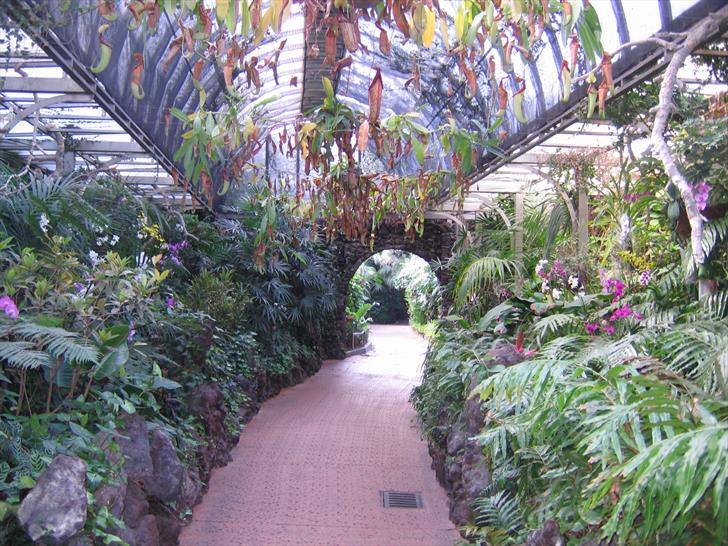 Location and Directions
Loro Parque is located in Puerto de la Cruz on the north coast of Tenerife. In Puerto the entrance to Loro Parque is near Punta Brava, west of Puerto's city centre behind Playa Jardin.
Loro Parque Train
There is a panoramic train going from the Martianez area in Puerto directly to Loro Parque.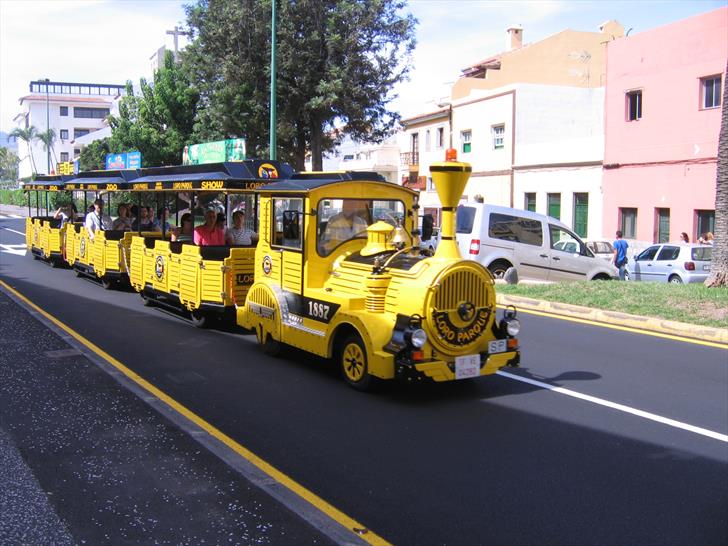 Loro Parque train stop is located between Martianez and Paseo San Telmo on the main promenade in the centre of Puerto de la Cruz: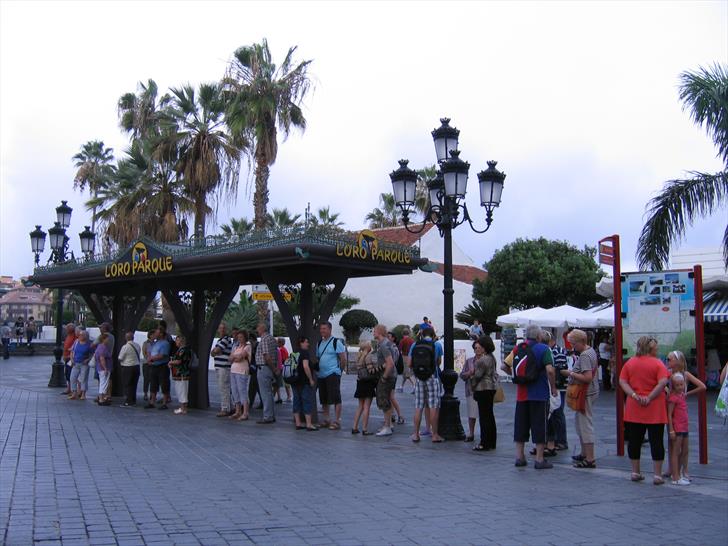 If you take the very first train at 9:00 in the morning, it will be very crowded. Get there early.
Loro Parque Shuttle Bus
There are daily shuttle buses from the south coast resorts (Costa Adeje, Playa de las Americas, Los Cristianos) and less frequent buses from other resorts and towns, including Las Caletillas, Los Gigantes, Playa Paraiso, Golf del Sur, Costa del Silencio and El Medano. The bus always stops in numerous locations throughout the particular resort, typically by the big hotels and complexes. Departure times range from 7:50 to 9:45, depending on location. Returning buses depart from Loro Parque at 16:30, so you will be back to your hotel just in time for dinner.
Unlike the Puerto de la Cruz train, which is free for park visitors, charges apply on the shuttle buses. Capacity is obviously limited and it is best to reserve the bus tickets at least 48 hours in advance, either by phone at +34 922 373 841 or when buying the Loro Parque tickets themselves.
Opening Hours and Tickets
Loro Parque is open daily from 8:30 to 18:45 (last possible entrance is at 16:00).
Entrance fee is EUR 38 for adults and EUR 26 for children aged 6-11 (as of March 2020). Children under 6 have free entrance. Significant discounts apply to Canary Islands residents (proof needed, typically a Registration Certificate).
There are various extras and combinations available, which you may want to check before buying (especially if you are planning to also visit the Siam Park in Costa Adeje, which is owned by Loro Parque).
This is how the Loro Parque entrance and ticket office looks in Puerto de la Cruz: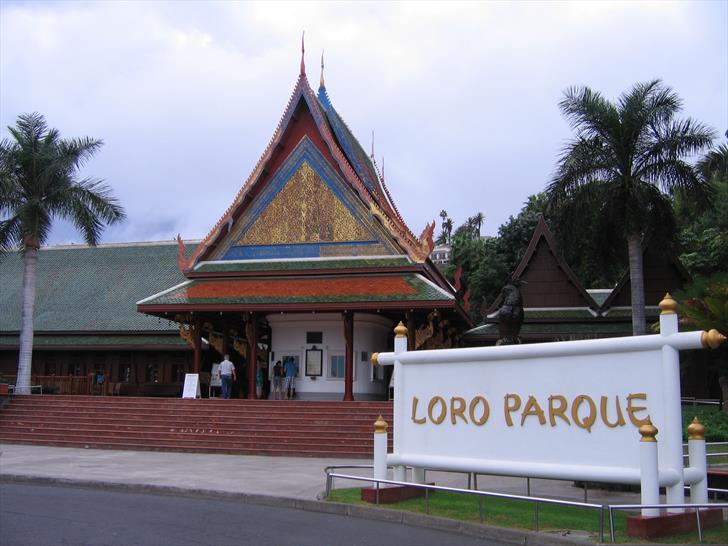 You can buy the tickets at the entrance or at tourist offices and hotels all over Tenerife. Alternatively, you can buy tickets online on the park's official website (price is the same as on site, but you may save a few minutes by avoiding the queue).
A second visit within 14 days from your first costs only EUR 15, if you book it inside the park during your first visit. I actually tried this and it worked – but it is very important to book it while still inside the park.