Santiago Bernabéu is a station on metro line 10 in Madrid. It is located at Plaza de Lima, but it is mainly known for Real Madrid football stadium. Both the stadium and the metro station are named after Santiago Bernabéu Yeste, Real Madrid football player and long-time president.
Other Metro Stations near Santiago Bernabéu
Adjacent metro stations are Cuzco (to the north) and Nuevos Ministerios (city centre direction; transfer to line 8 to Barajas Airport and line 6 – Madrid circle line). Santiago Bernabéu is 3 metro stops from Alonso Martinez, 4 stops from Tribunal, 5 stops from Plaza de España, and 6 stops from Principe Pio (all with direct connection on metro line 10).
Santiago Bernabéu Metro Pictures
Santiago Bernabéu metro station sign in the southern end of Plaza de Lima: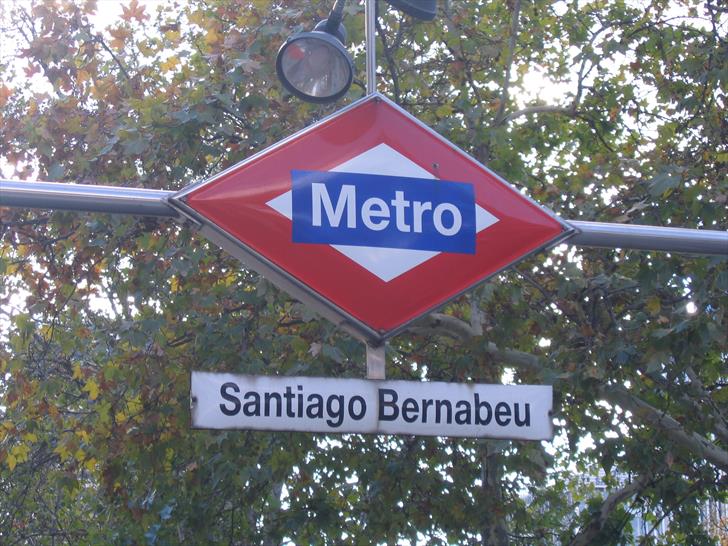 The sign with directions which you see at the platform when getting off a train at Santiago Bernabéu: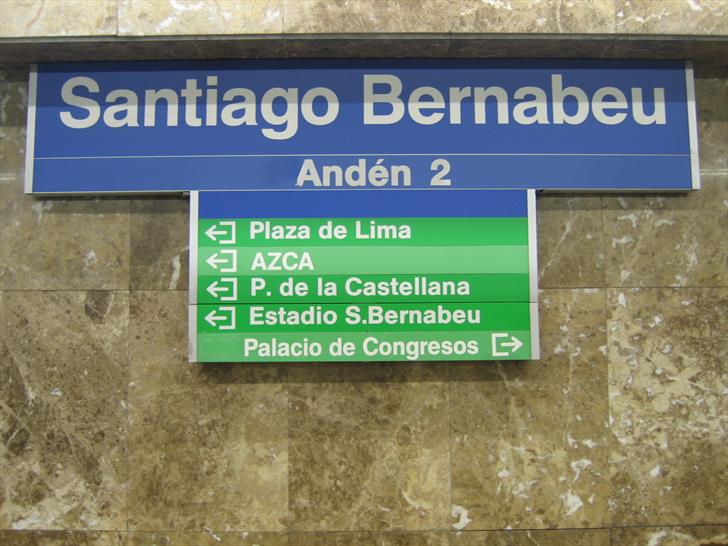 Santiago Bernabéu metro station sign in the underground.
Streets and Places near Santiago Bernabéu Metro Station
Big streets that meet at Plaza de Lima include Paseo de la Castellana, Avenida del General Perón, and Avenida de Concha Espina. There is also a small side street named Calle de Santiago Bernabéu (from Plaza de Lima to the south-east). Other remarkable places near Santiago Bernabéu metro station include Plaza de los Sagrados Corazones, Torre Picasso, Palacio de Congresos, and Jardines de Perón.