Besides Prague Castle and Charles Bridge, one of the dominant features of Prague's historical centre is the river, Vltava. Like the other landmarks, it has its own story and offers a wide range of activities and experiences – unfortunately some of them unknown to foreigners. And that's the job of this page.
What River Runs through Prague?
The name of the big river that runs through Prague city centre is
the Vltava – pronounced as you see it: vl-ta-va
and also known by its German name, the Moldau.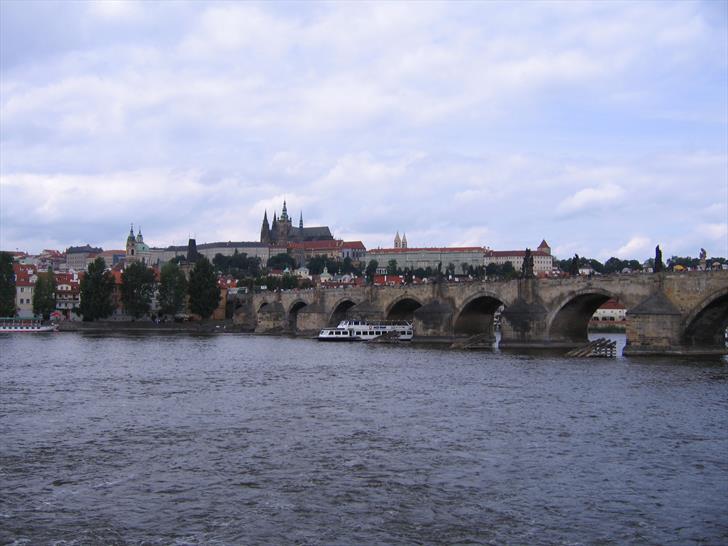 A Few Facts
The Vltava originates in the Šumava (Bohemian Forest / Böhmerwald) mountain range in South Bohemia near the border with Germany. It runs all the way across the middle of Bohemia from south to north. There is a cascade of dams built on the Vltava, the biggest are Lipno and Orlík. There are also a plenty of castles, fortresses and castle ruins overlooking the shores of the Vltava, including Rožmberk, Český Krumlov (a popular trip from Prague), Hluboká, Orlík, and of course Prague Castle and Vyšehrad in Prague.
In Prague the Vltava flows right through the middle of the city centre and then makes a characteristic curve around the Holešovice district. There are 18 bridges over the Vltava in Prague, including the famous Charles Bridge.
Not far north of Prague (in Mělník) the Vltava joins the Labe (Elbe), which is the river you can also see in Dresden and Hamburg in Germany. The Elbe enters the North Sea near Hamburg.
The Vltava is not just some ordinary river. Besides being the longest river in the Czech Republic (430 km), it is a true national symbol – as important for Czech culture and identity as Prague Castle or Prague itself.
The Vltava, My Country and Bedřich Smetana
You might have heard of Bedřich Smetana, one of the two best known Czech composers (the other is Dvořák). Besides his operas, one of Smetana's most famous works is a set of six symphonic poems named Má vlast, which translates as My Country or My Homelands. The best known of these six poems (and my own personal favourite) is, you've guessed it, Vltava (composed in 1874).
Smetana's music tells the story of the river as it progresses from being a small creek in the mountains (the somehow faster and playful part at the beginning) to becoming a big river, passing villages, castle ruins and valleys, and eventually coming to Prague – a theme quite similar to Johann Strauss Jr.'s famous Blue Danube waltz.
Smetana Monument in Prague
Smetana has a monument and a museum dedicated to his life and works right at the bank of the Vltava in Prague city centre. It is very close to Charles Bridge, as you can see on the photo below.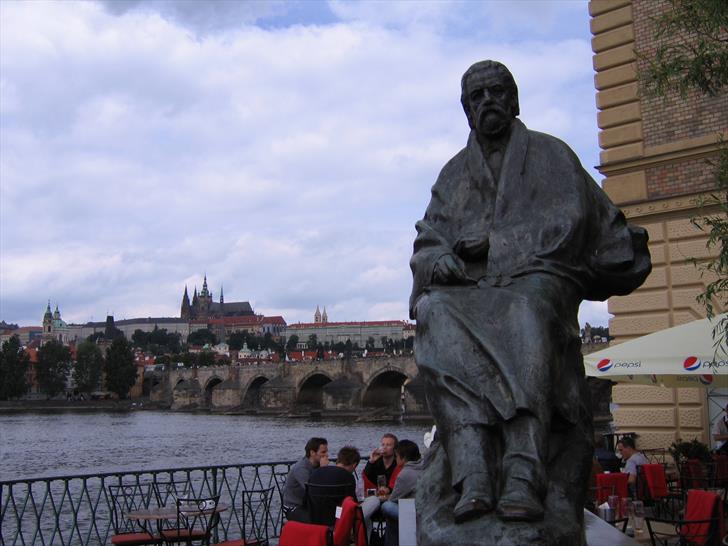 If you come in winter, you may find poor Smetana covered with snow. His museum building is in the background: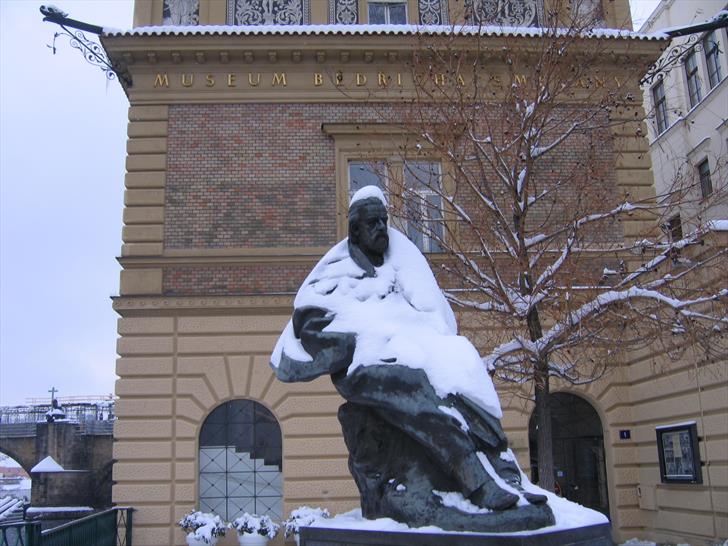 Visiting Smetana Museum
Usual opening hours: 10am – 5pm; closed on Tuesdays
The address is Novotného lávka 1, 110 00 Praha 1. You can see the location on the map below.
The best way to get there: When coming to Charles Bridge from the Old Town side, cross the last pedestrian crossing right before the bridge and immediately turn left. You will walk through a sort of tunnel under the block of houses and you will have the street and tram tracks on your left side. Immediately as you exit the tunnel, turn right. You are at Novotného lávka (Novotny bridge or pier). Smetana Monument and the museum entrance are at the end of the pier.
By the way, it is also one of the best places for taking pictures of Charles Bridge and Prague Castle.
Admission prices to the museum (valid in June 2016) are 50 CZK adults, 30 CZK over 60 / under 15 / students.
Bedřich Smetana Museum is operated by the National Museum. You can find latest official information on their website.
Prague River Cruises
Cruises are by far the most popular tourist attraction related to the river in Prague, although personally I must admit I don't consider them anything special and overall rather poor value (compared to cruises I have taken elsewhere in Europe).
Prague cruises work similarly to those in other big cities – there are many different companies offering cruises of different lengths, themes, and of course different prices. You can take a cruise with lunch, with dinner, a glass of wine or beer, or with live music; day cruises, evening cruises, and even party cruises.
When having a meal or drink on board, you must of course expect to pay a premium over traditional restaurants. When booking a cruise, make sure you understand what is included in the price and what you will be asked to pay extra on board. If you want a cruise with narration, ask about it before you buy – some cruises have it, others don't, and the extent and quality varies.
A Short Cruise Is Often Enough
If you just want a cruise to have a look at the city from a different angle and don't want a meal on board, a 1-hour cruise is probably enough. Prague's historical centre is not that large and the cruises which take 2 or 3 hours often end up repeatedly circling around the same area – Charles Bridge, Prague Castle, National Theatre. In other words, you will probably see only a very short section of the river even on a long cruise. Passing under Charles Bridge is usually the best moment.
One reason why Prague cruise boats don't take you very far is that there are many weirs on the river. It is not unusual for the boats to wait in (or before) the locks which they must use to pass through the weirs – like the one on the photo below. In some cases they can spend 15 minutes or more waiting in the same place.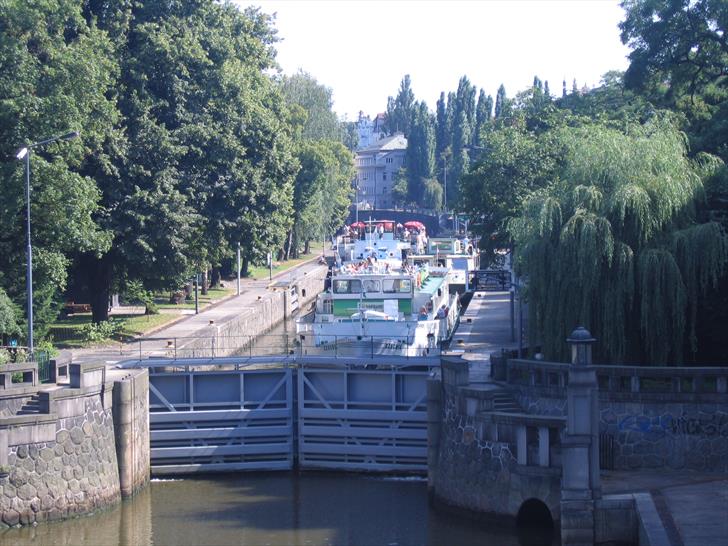 There are many different providers offering different cruises and it is hard to recommend one, as people's preferences and expectations vary. As a rule of thumb, be particularly vary of those which:
Approach you themselves in the top tourist areas.
Offer to pick you up at your hotel.
Longer cruises which promise a lot and cost a lot.
… these kinds are often not good value, although there are exceptions and, again, people's expectations vary.
Prague Boat Rentals
If a standard cruise sounds too touristy and unoriginal and you are in Prague in summer, you can take a little river cruise using your own power. There are several places in the city centre where you can rent pedalos, paddle boats or rowing boats and enjoy a bit of water sports with a view of Charles Bridge and Prague Castle.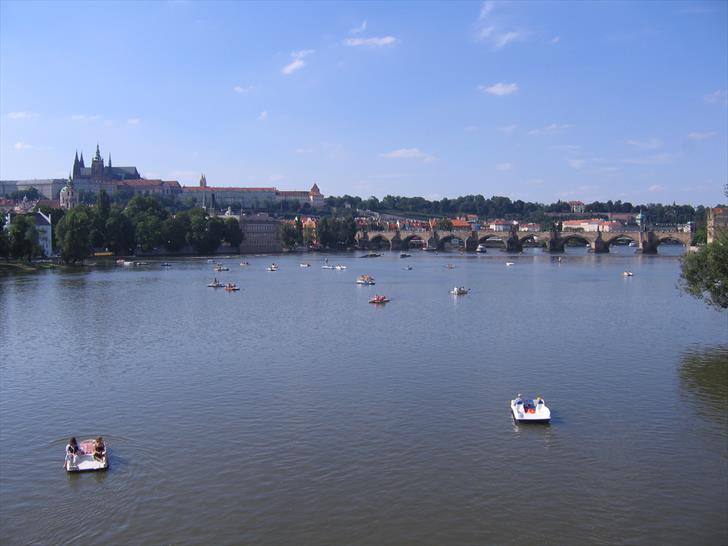 Only if you come too close to a shore, be ready for tourists taking pictures of you. Boat rentals have very long tradition here. It is a very Czech way to enjoy the summer in the city.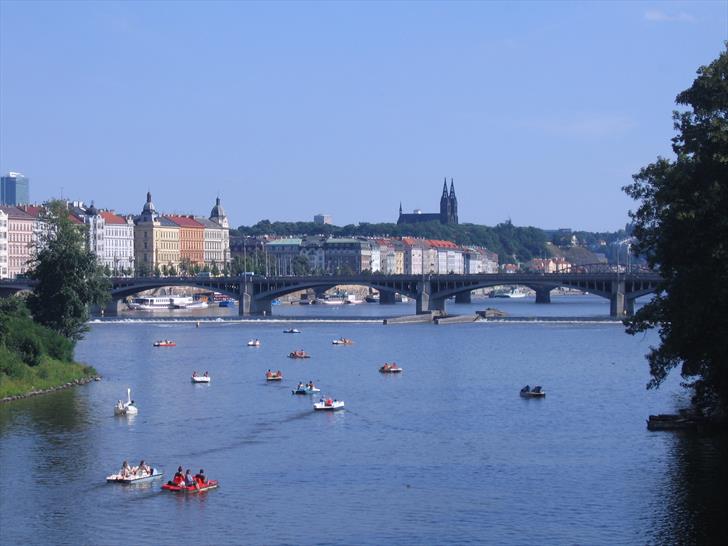 In the other direction you can see the Vyšehrad (another castle with an old church). And yes, some of those boats look like giant swans.
Boat Rental Prices, Opening Hours, Places
There are several places, offering quite similar range of services and similar prices. Expect to pay 150-200 CZK for an hour. Rescue jackets are provided. Typical opening hours are from late morning / noon to late evening / sunset (like 11am to 10pm in summer). The rentals are typically available from April to October, although that varies by provider.
The best place where to rent a boat in the city centre is Slovanský ostrov (Slavic Island), which is the island in front of the National Theatre. There are at least two boat rental providers on this island: Slovanka (their website) and S.P.L.A.V. (no website, but opening hours and contact details here).
There is also a restaurant and coffee on the island, as well as a concert hall (Žofín). From this place you can take your boat almost to Charles Bridge (the boats on the photos above are from here). You can't go under Charles Bridge, because there is a weir in the way.
Don't go past this one, obviously: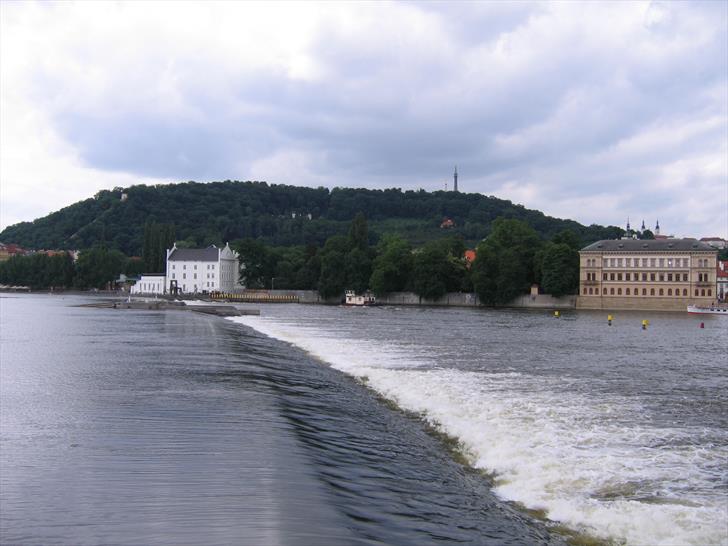 Hotels in Prague with River View
The riverside and especially the section near Charles Bridge is of course a prime location. If you are on budget, look elsewhere. But if you have some money to spend on a nice view, look nowhere else (actually, to be honest, some of Prague's 4-star and 5-star hotels are quite affordable compared to other European cities). Some of the best hotels with the best river views are the following.
East Side (Old Town)
Four Seasons Prague – next to Charles Bridge, across the river from Prague Castle – this is THE best hotel view in Prague. Madonna stayed here at least twice.
InterContinental Prague – overlooking the river at the end of Pařížská (Paris Street), Prague's most expensive shopping street.
President Hotel – next to InterContinental on the riverside. You can still see Prague Castle from some rooms.
Hilton Prague Hotel – on the river bank further downstream and already outside the Old Town, but it was good enough for US presidents G. W. Bush and Obama.
West Side (Lesser Quarter)
Hotel Čertovka – named after Čertovka (Devil's Channel), which is a smaller channel running parallel to the Vltava and you can see it at the end of Charles Bridge in Lesser Quarter (there is a big mill wheel).
Hotel Klárov – conveniently located next to Malostranská metro station under Prague Castle and offering views of the castle and Charles Bridge from less traditional angles.