Roque Nublo is the second highest point of Gran Canaria. With 1,813 metres above sea level it is second only to the nearby Pico de las Nieves, but much better known due to its iconic rock at the top.
It is also the most popular hiking trip in Gran Canaria, the kind that is done also by those who otherwise spend the entire holiday on the beach. On this page I try to summarise useful information, including how to get there, parking, the trail, what to bring and what to expect.
Introducing Roque Nublo
Like everything else in the Canary Islands, Roque Nublo has volcanic origin and its age is estimated to 4.5 million years. The mountain is easily recognisable from a distance thanks to the characteristic 80-metre tall block of rock at the peak. Here you can see a picture taken from the road to Tejeda (nearby town):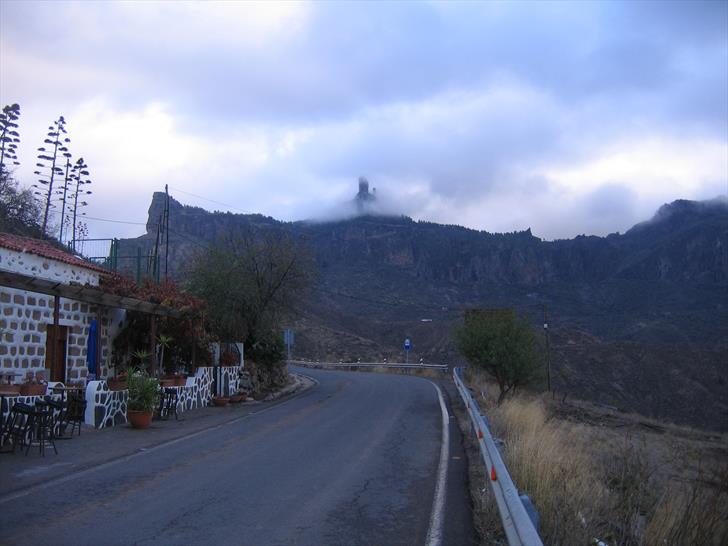 Roque Nublo means "clouded rock" in Spanish. You will see that the people of Gran Canaria have a good sense of giving things on their island proper names. The peak of Roque Nublo is very often covered with clouds.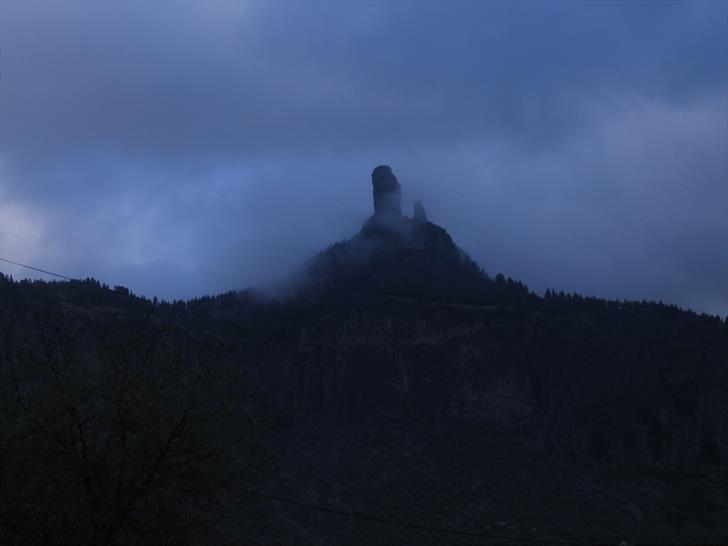 Climbing almost to the top of Roque Nublo is a pleasant trip and a relatively easy walk. If you stay on the south coast, you will have to drive a long way through the serpentines and narrow roads into the inlands of Gran Canaria, but it's absolutely worth it.
How to Get to Roque Nublo
From the south coast the best way to get to Roque Nublo is via road GC-60, which starts in Maspalomas / Playa del Ingles. For those coming from other resorts, the start of this road is at the motorway (GC-1) junction 45 (La Alborada, San Fernando, Playa del Ingles). Follow signs to San Bartolome de Tirajana.
Road GC-60 immediately starts to climb (there will be some nice views of the coast behind you) and takes you through the towns and villages of (in this order) Arteara, Fataga and (the biggest) San Bartolome de Tirajana. The distance from Maspalomas to San Bartolome is 25 km, but the driving time will be much longer than this would suggest – there are lots of sharp curves and climbs. In fact, San Bartolome is about 900 metres above sea level – basically halfway the vertical ascent to the peak of Roque Nublo.
From San Bartolome you will continue on road GC-60 via small villages Agua Latente, La Plata and La Candelilla. Shortly after the latter (some 10 km from San Bartolome or 35 km from Maspalomas) you will arrive in another small village named Ayacata (1,300 metres above sea level). Here you will leave road GC-60 and turn right to road GC-600 (direction Vega de San Mateo). This road has some even steeper climbs, but you will only be driving for 3 km and you finally arrive at the main Roque Nublo parking place.
Roque Nublo Parking
The parking place is immediately off road GC-600. Local name of the place is La Goleta, but most people would refer to it simply as Roque Nublo parking. It looks like this: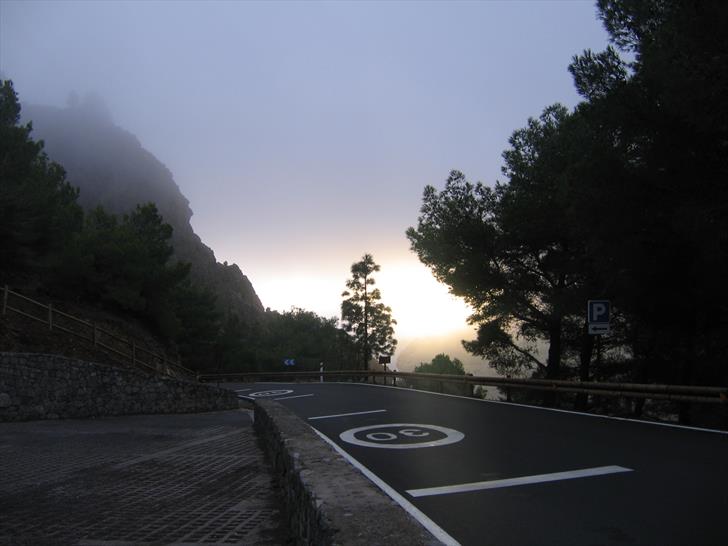 (You will arrive from the bottom if you take the route described above)
Roque Nublo Trail
The parking place is at 1,580 metres altitude – just 150 metres of ascent to the highest point where most visitors will want to get. The peak of Roque Nublo is at 1,813m, but that includes the 80-metre rock at the top, where you can't get without proper climbing equipment and a special permit from the authorities. Nevertheless, you can get all the way to the foot of the final rock, which rises from a large elevated platform that provides nice sceneries on its own.
You should be able to get from the parking place to the rock itself in 30-45 minutes. Horizontal distance is only 1.5 km, including a very easy first half on a solid path and a slightly more difficult second half, although that can also be done by moderately fit persons without any climbing equipment. There are just a few places where you have to use your hands a little and climb on small rocks. You will usually meet many people on the way from the parking place to Roque Nublo, though definitely less than on the beach in Maspalomas.
The beginning of Roque Nublo trail, with the parking in the background: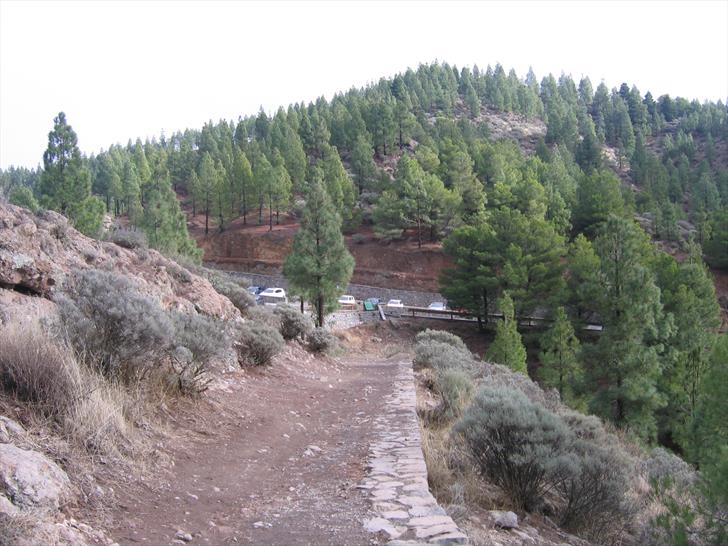 The first section of Roque Nublo trail is very easy, with a good path for most of the time.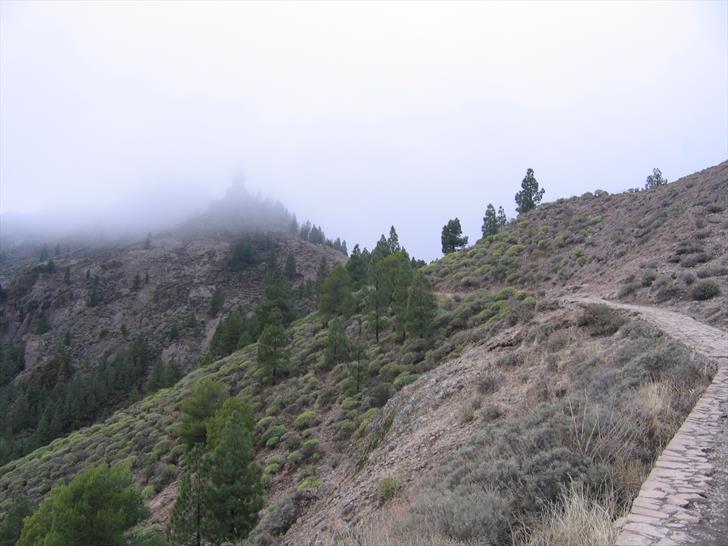 Big part of the first half of the trail takes place in a typical Gran Canarian forest.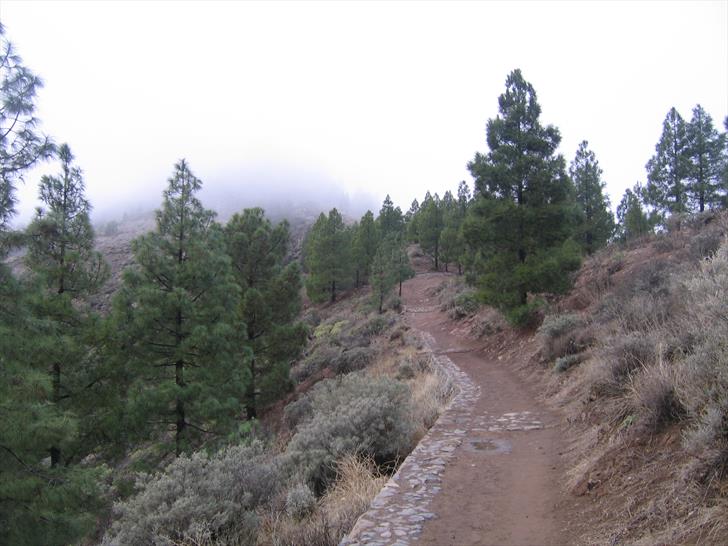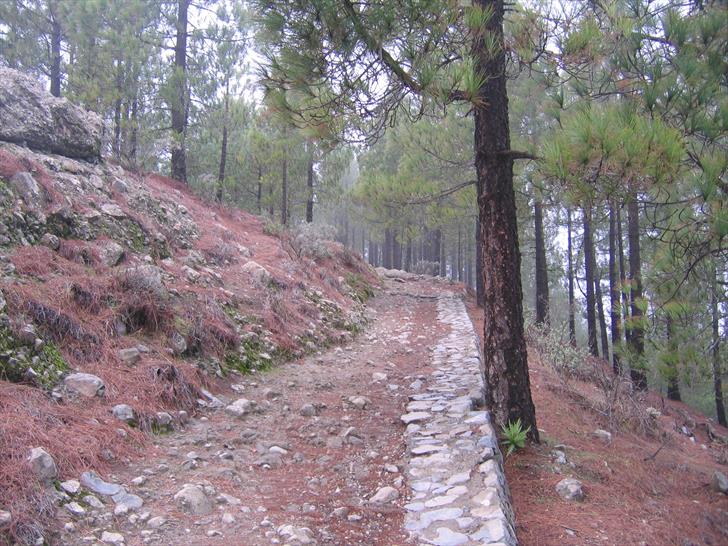 There are beautiful views. This one is the valley south-west of Roque Nublo: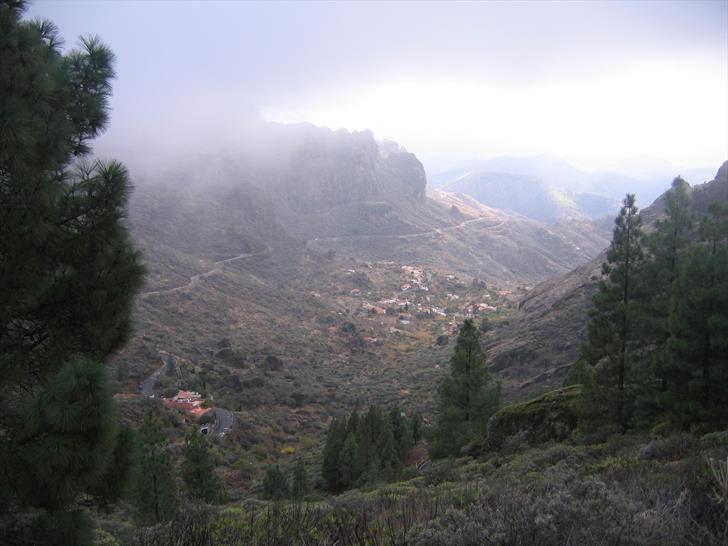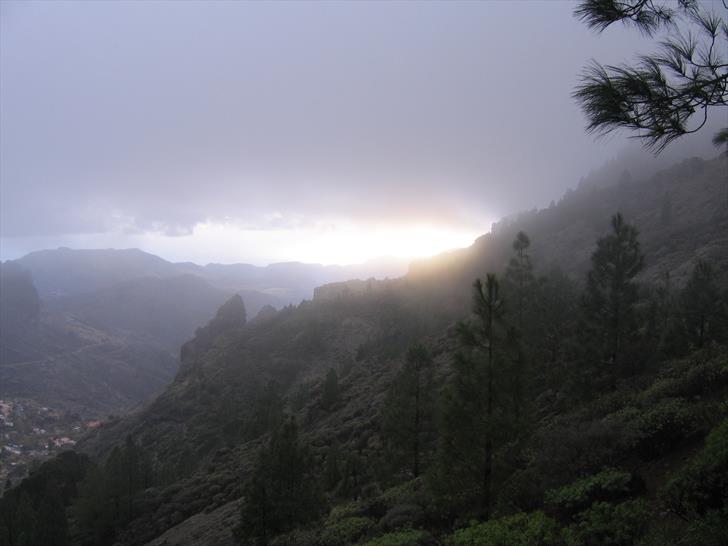 It looks like sunset, but it was actually still mid afternoon when I was taking this picture. Sunset comes very early in some valleys in Gran Canaria inlands.
Second Half of Roque Nublo Trail
After you have walked about a half of the way to Roque Nublo, the path becomes a bit more difficult (and very often the weather gets worse too).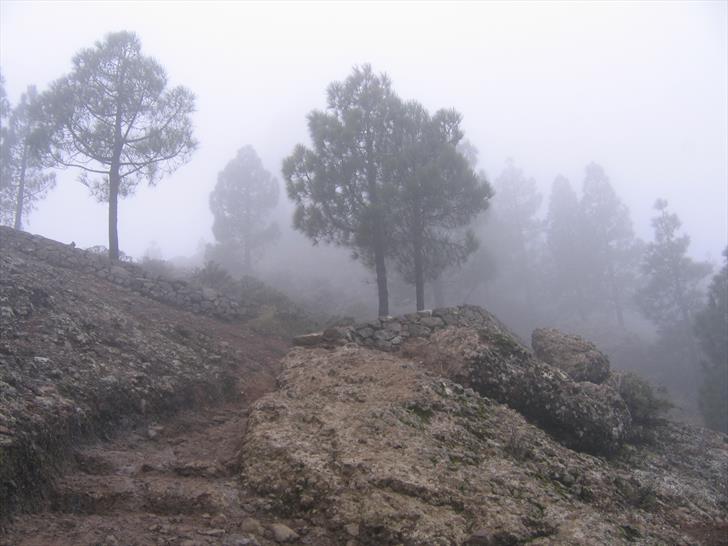 The photo below shows the junction where the trail from Roque Nublo parking meets another trail (from the valley). After this junction, the path is not very clear in some places (at first, I got lost for a few minutes).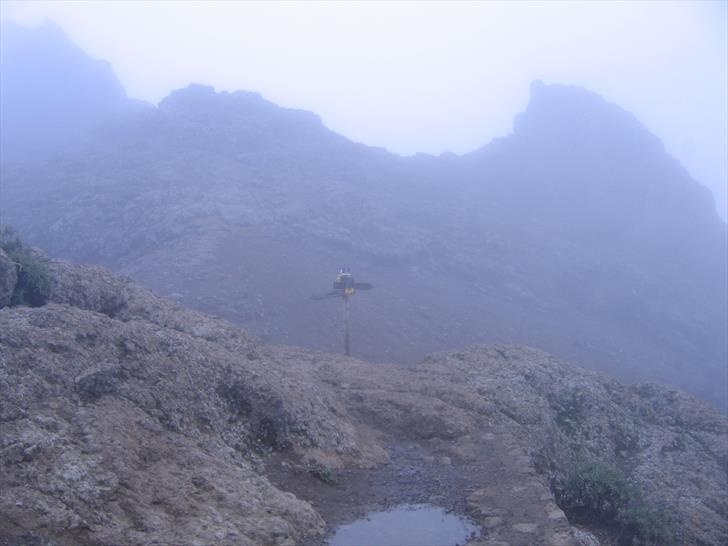 The trees and nature just below Roque Nublo peak: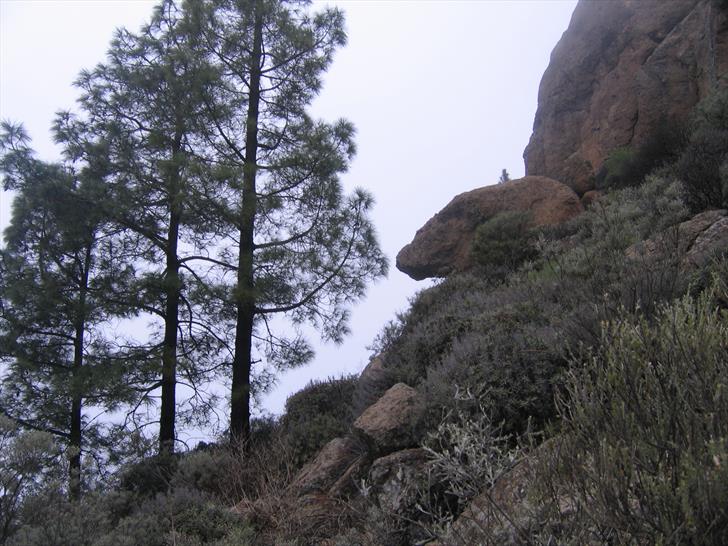 Now comes the most difficult section of the path.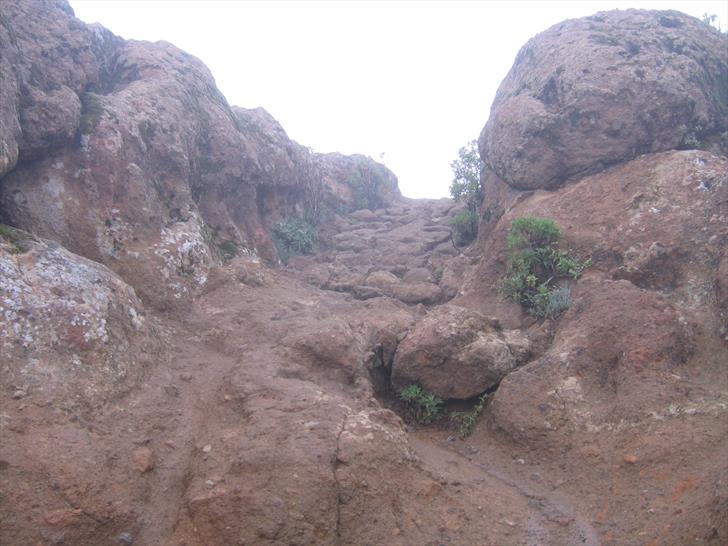 You will probably need to use your hands too in a few places, but overall it is still very manageable and definitely not too dangerous.
Then you get onto the upper plain on Roque Nublo and suddenly the rocks at the peak appear in front of you. However, very often they don't, due to clouds and fog.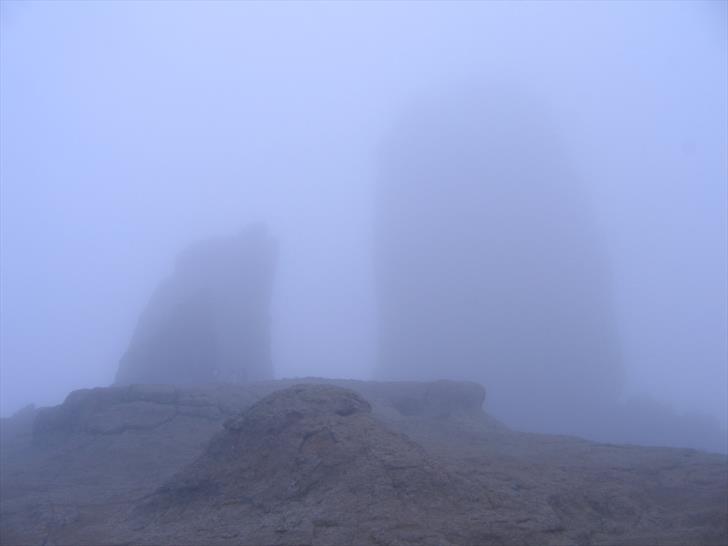 There are some interesting rock formations on Roque Nublo. Unfortunately, climbing onto the very top of the tallest rock (80 metres tall) is not permitted (and you would need proper climbing equipment for that anyway).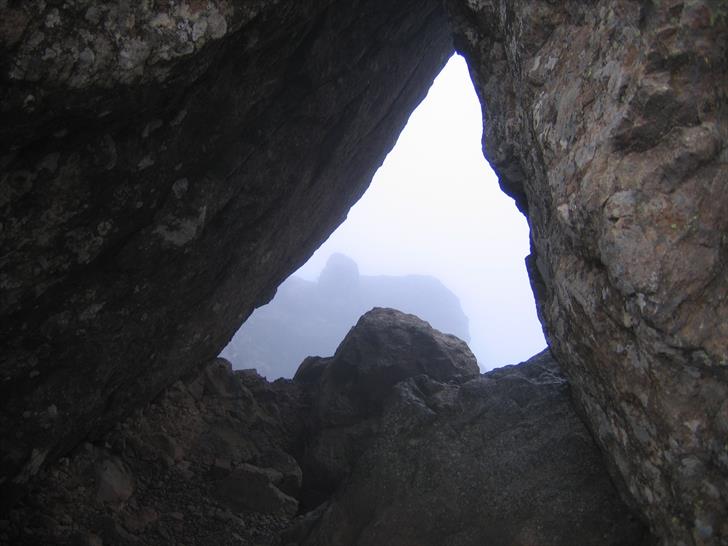 Roque Nublo Weather and What to Bring
As the mountain's name suggests and the pictures demonstrate, you should be prepared for any kinds of weather when going to Roque Nublo. Don't be fooled by the sunshine at the coast. The inlands of Gran Canaria are a totally different world – and remember you are going to more than 1,700 metres above sea level.
Bringing some additional layer of clothing is a good idea, just in case. The walk is not too long, but there's no need to be uncomfortable or risk being cold if you happen to get lost.
At the same time, if the sky is clear, the sun can be very strong at this altitude. Use sunscreen, cover your head and bring plenty of water. There are no restaurants or shops nearby.
Other Hiking Trails near Roque Nublo
Besides the shortest path from the parking place to the summit, there is also a circular trail around Roque Nublo, which you can take if you continue at that junction shown on one of the photos. The entire trip which includes the approach from the parking place, the full circle and detour onto the summit is about 5 km long in total. Just make sure you don't take a wrong turn and descend further into one of the valleys.
There are plenty of other hiking trails all over the inlands of Gran Canaria. Length and difficulty varies and regardless of your level, you can easily spend a full week or two just hiking in the inlands. One of the other popular trips is to Pico de las Nieves (the highest mountain) – you can get to its starting point if you continue on road GC-600 for further 3 km from Roque Nublo parking.
Hotels near Roque Nublo
The inlands are sparsely populated and there are of course much fewer accommodation options than on the coast. Many people prefer to stay on the coast (e.g. Maspalomas, Playa del Ingles) and drive to the hiking areas. However, if you don't need all the comfort and services of the resorts and don't mind that your town has only one restaurant and one shop (or none), there are some lovely locations in the mountains. Some of the bigger towns near Roque Nublo with more accommodation options (and more than one restaurant and shop) are particularly Tejeda and San Bartolome de Tirajana.