To many people, Oslo City Hall (Radhuset or Oslo Radhus) is the most significant building in Oslo. Several factors have contributed to its fame: the prime location on Oslo's harbourfront, the annual ceremony of awarding the Nobel Peace Prize (on 10 December each year) and its characteristic functionalist design.
Oslo City Hall Pictures
The typical picture of Oslo City Hall, as seen from the harbour:
View from the sea, when leaving Oslo Harbour in a boat: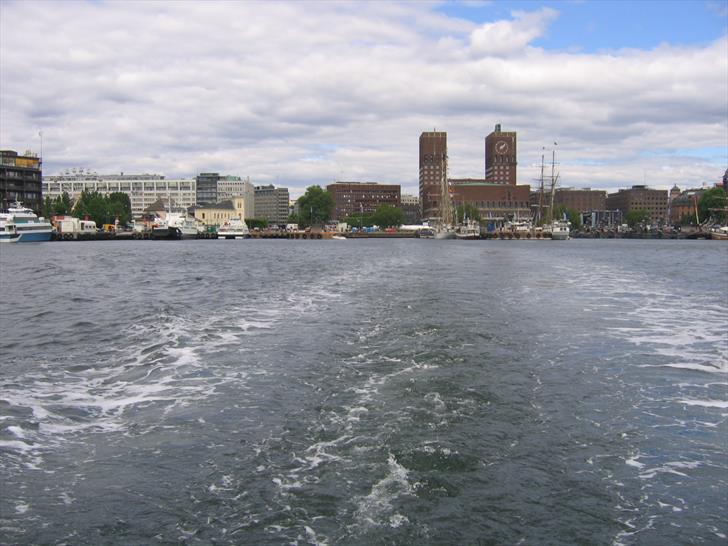 View from Akershus Fortress: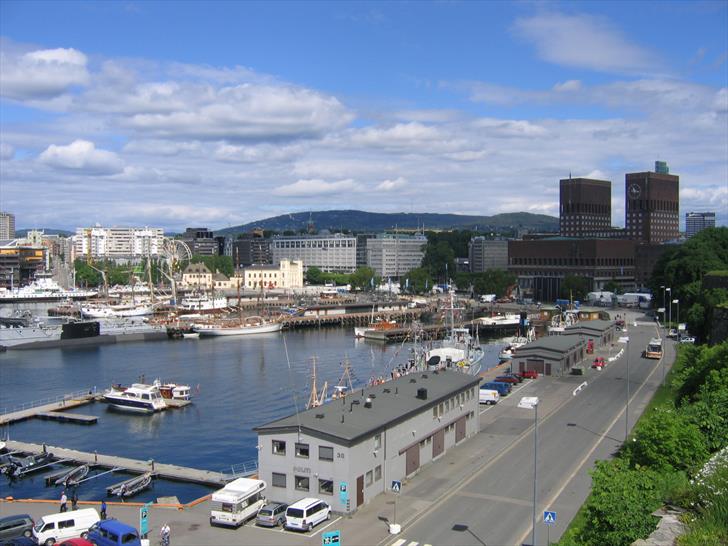 View from the east (from the Kontraskjæret park on the way to Akershus):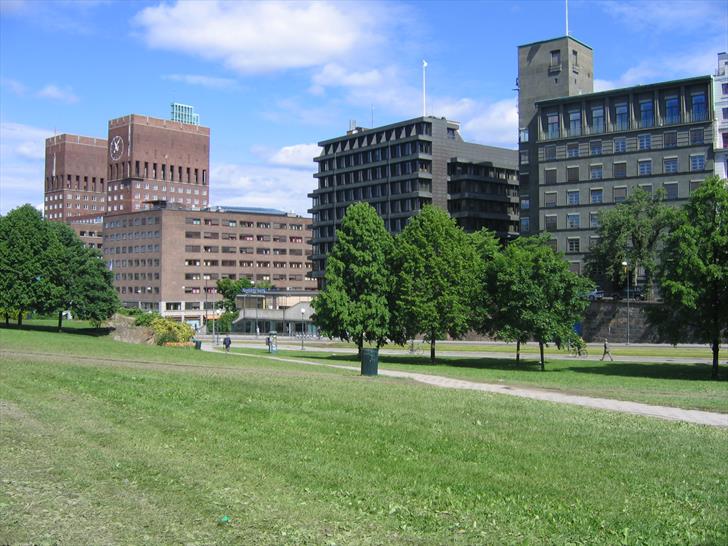 View from the western side: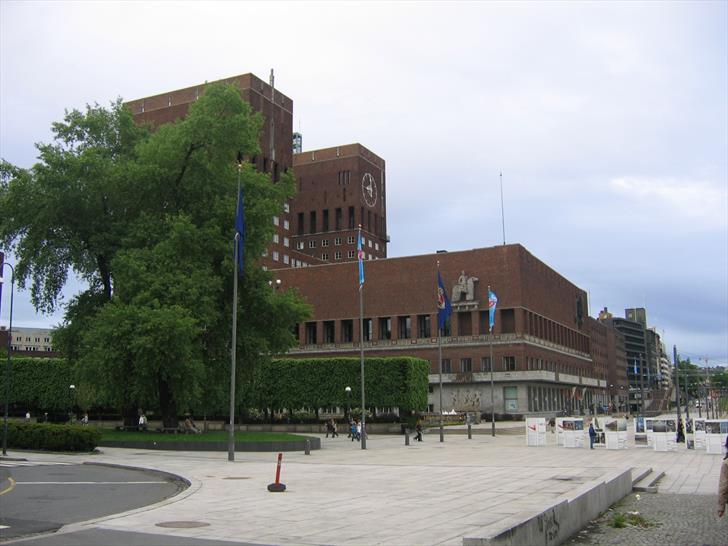 Oslo City Hall Main Entrance
This is the main entrance to Oslo City Hall from Fridtjof Nansens Plass (the other side than the harbour):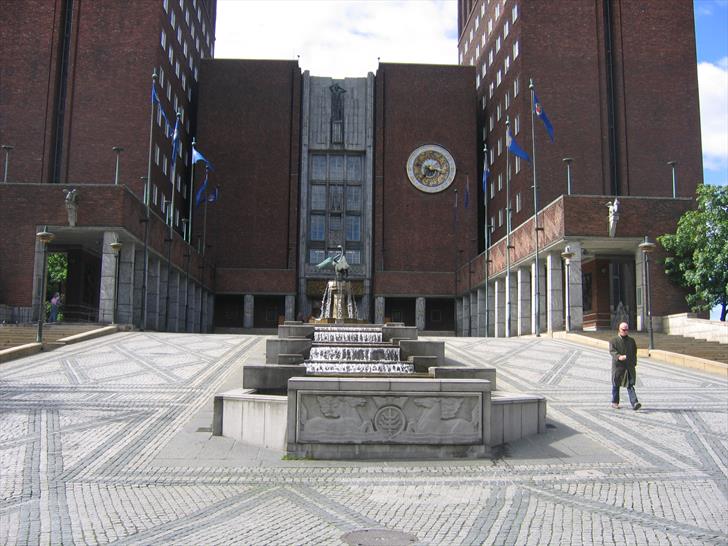 You can see the Astronomical Clock (Det astronomiske uret) on the right side above the entrance.
The fountain in front of Oslo City Hall and the Astronomical Clock in the background: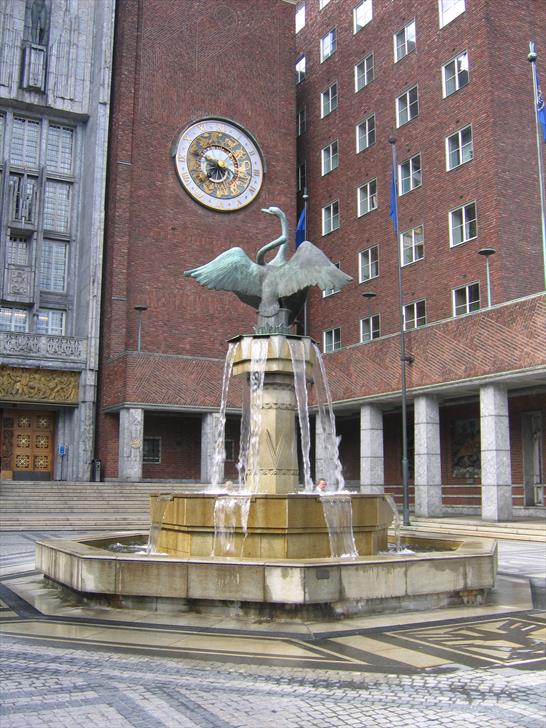 Radhushallen (Main Hall)
The main hall at Oslo City Hall – the first thing you see when you get inside and also the best known part.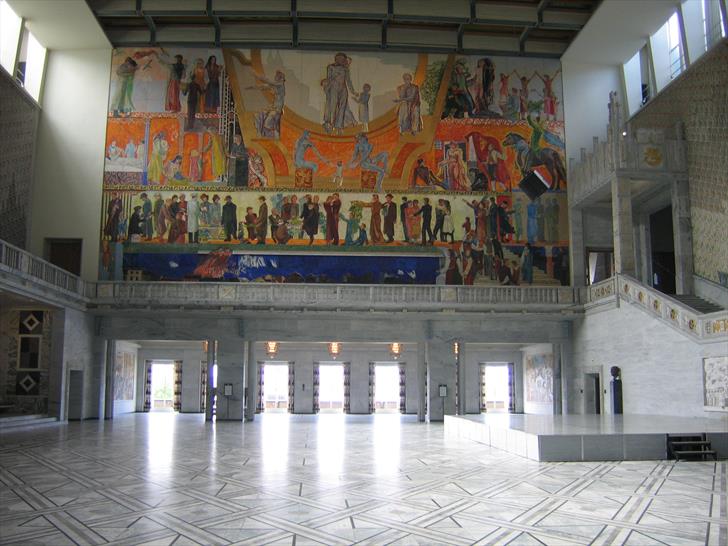 Stairway with a bell in Radhushallen: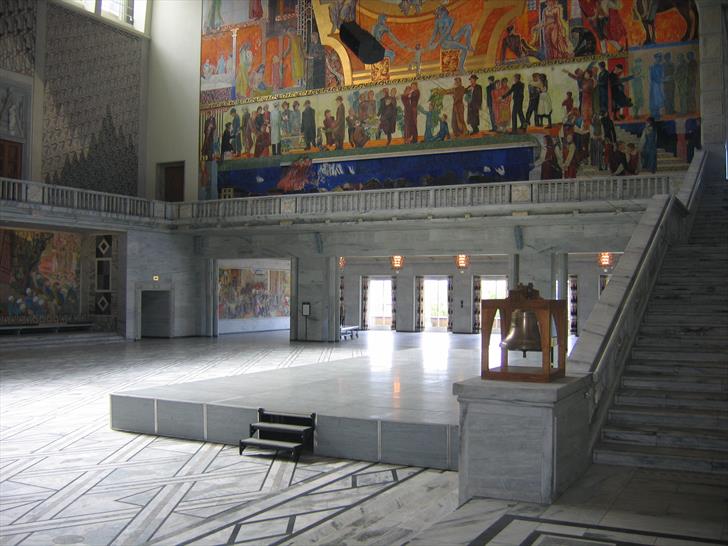 Decoration of the floor and walls in Radhushallen: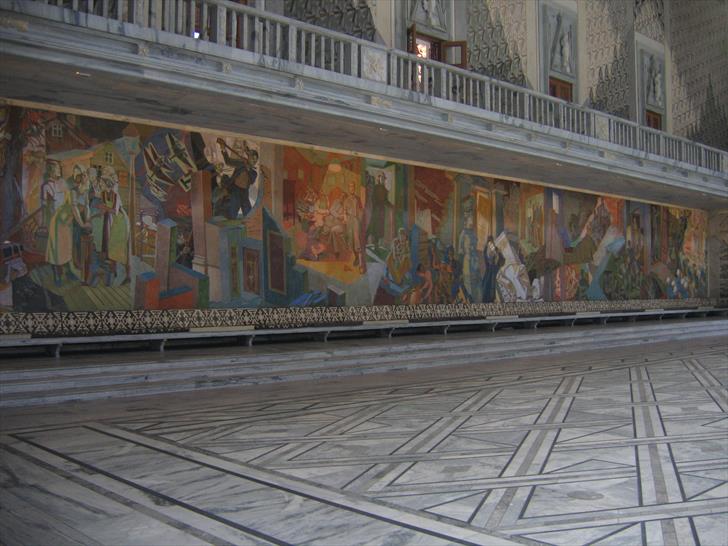 View of Radhushallen from the upper level: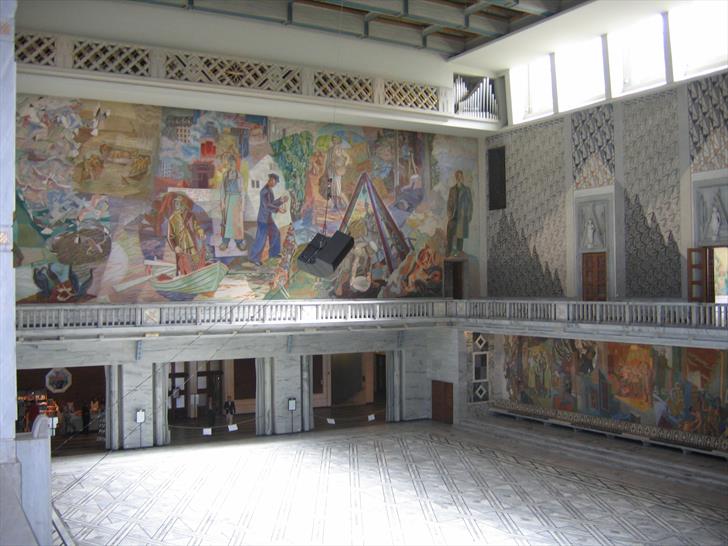 A typical picture of the big decorated wall in Radhushallen: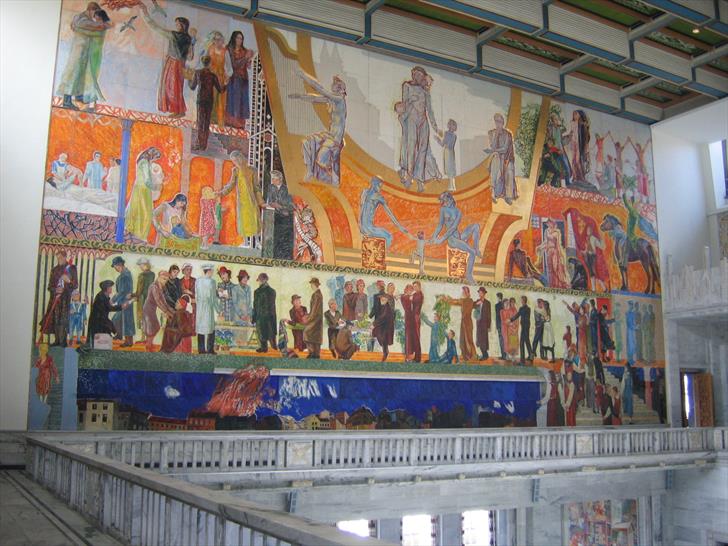 Other Parts of Oslo City Hall Interior
The main assembly room – Bystyresalen (literally translates as "City Management Hall"):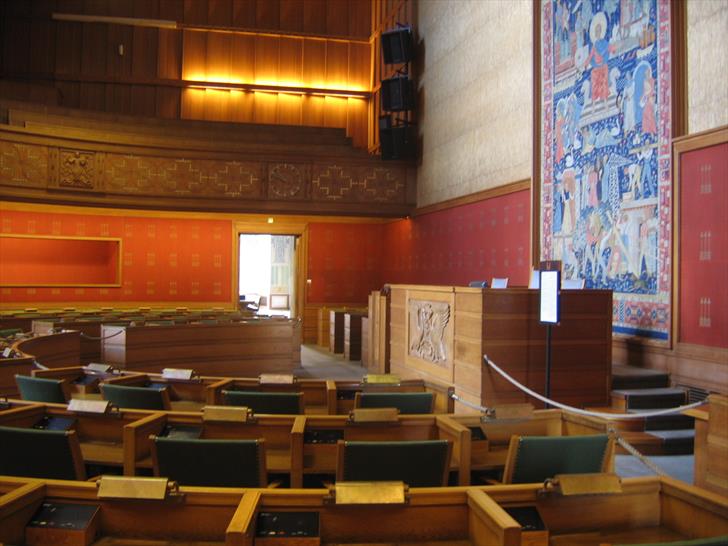 The Banquet Hall (Bankettsalen):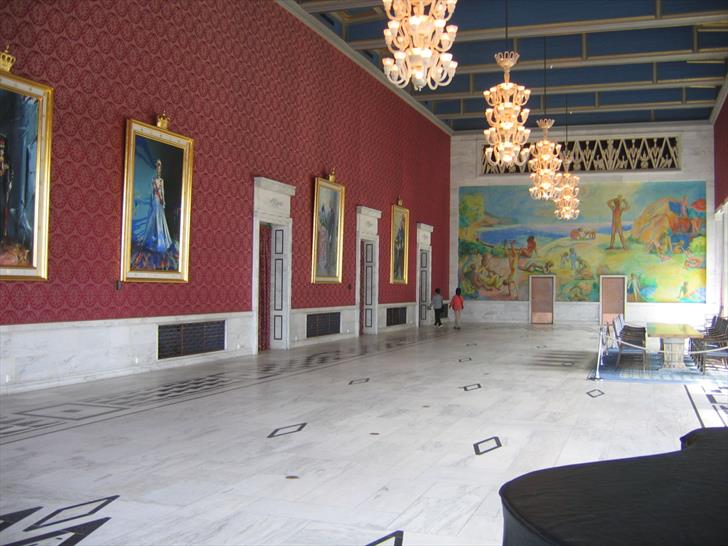 One of the many decorated rooms and halls: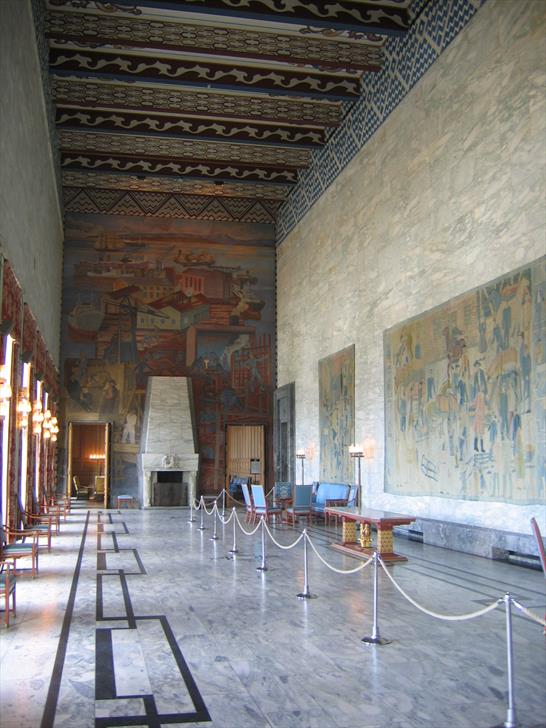 Oslo is nicknamed the "Tiger City" (Tigerstaden) and therefore it's no surprise that you find a tiger in the City Hall.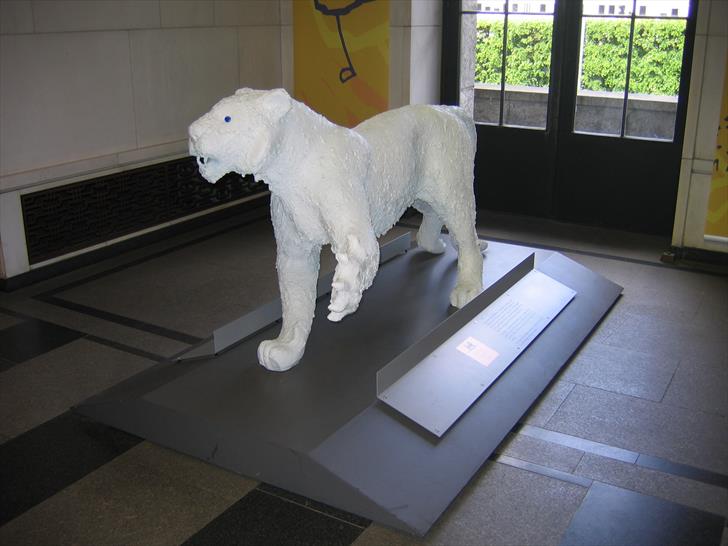 But you will see other animals too. For example a big cow on the wall above one of the stairways.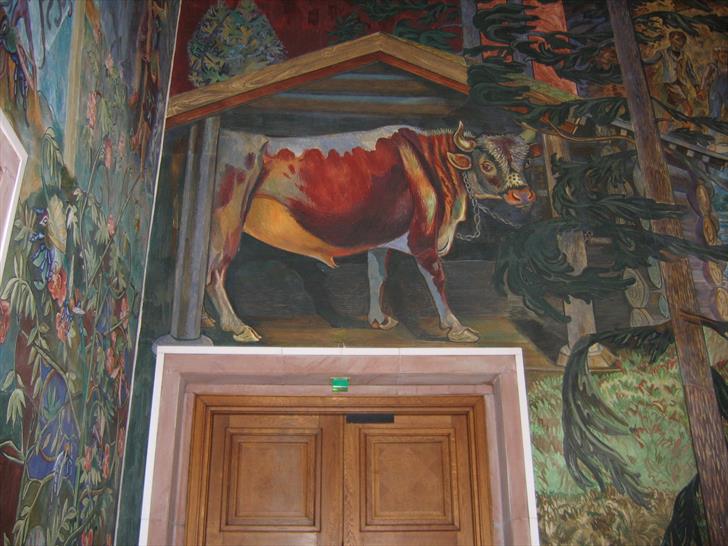 One of the most interesting parts of Oslo City Hall is the Gift Gallery (Gavegalleriet). Here you can see various gifts from other nations, their kings or presidents. For instance, the picture below shows a gift from the King of Thailand.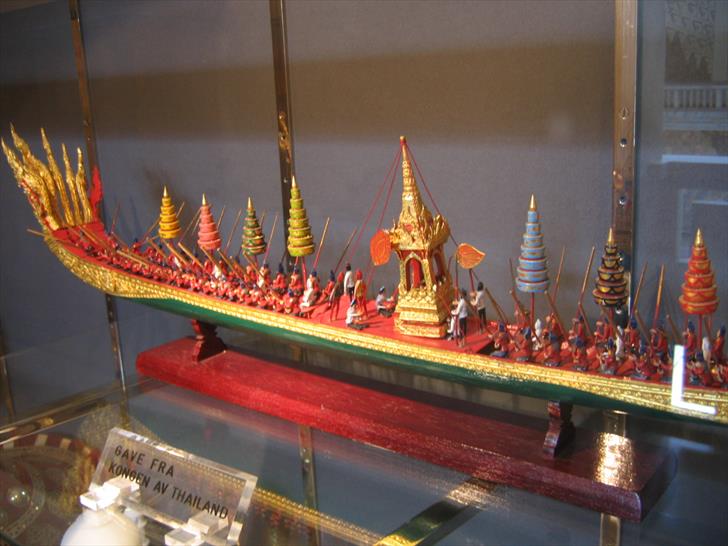 View of Oslo Harbour from City Hall Windows
When you are inside the city hall building, don't forget to look out of the windows.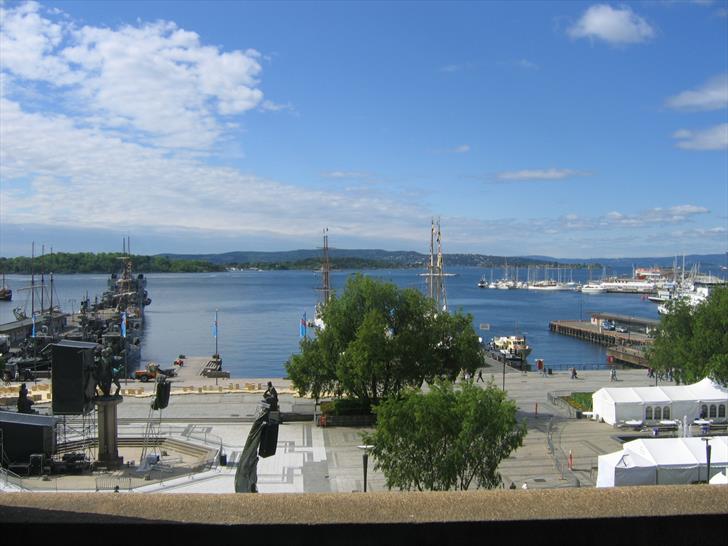 There are some very nice views of the harbour.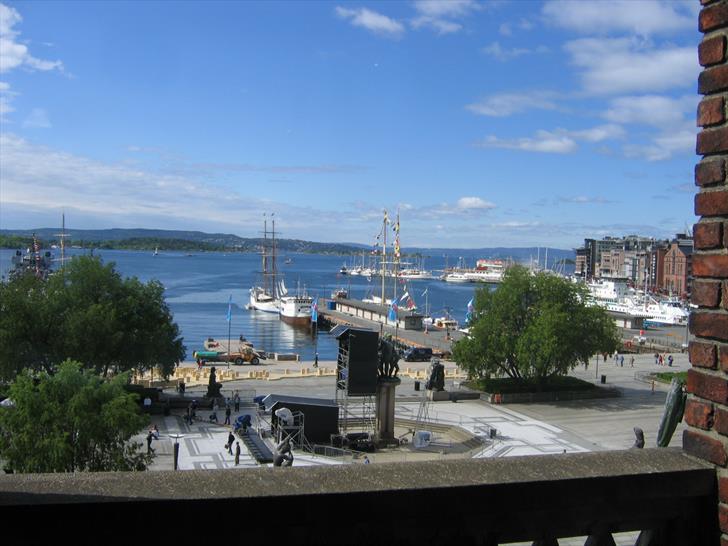 Oslo City Hall Location and Directions
When you are visiting Oslo, it's almost impossible to miss the City Hall. It is located between Fridtjof Nansens Plass and Radhusplassen (City Hall Square), adjacent to the harbour and near Akershus Fortress. The nearest metro station is Nationaltheatret. The nearest tram stop is Radhusplassen, immediately next to the city hall.