Warsaw Nike Monument is also known as The Monument to the Heroes of Warsaw (Pomnik Bohaterow Warszawy). It commemorates the heroes (soldiers and civilian population) who fought for freedom of Warsaw during the World War II, especially during the Warsaw Uprising in 1944, when the people of Warsaw managed to achieve minor victories, liberating some parts of the city from the Nazi occupation.
However, without help from outside (the already approaching Soviet army or the western Allies) Warsaw Uprising had little chance and eventually was defeated, costing as much as 200,000 civilians their lives, mostly due to mass murders by the Nazis. Defeat of the Warsaw Uprising also contributed to further damage of the buildings in Warsaw, which has already been partly destroyed earlier in the war.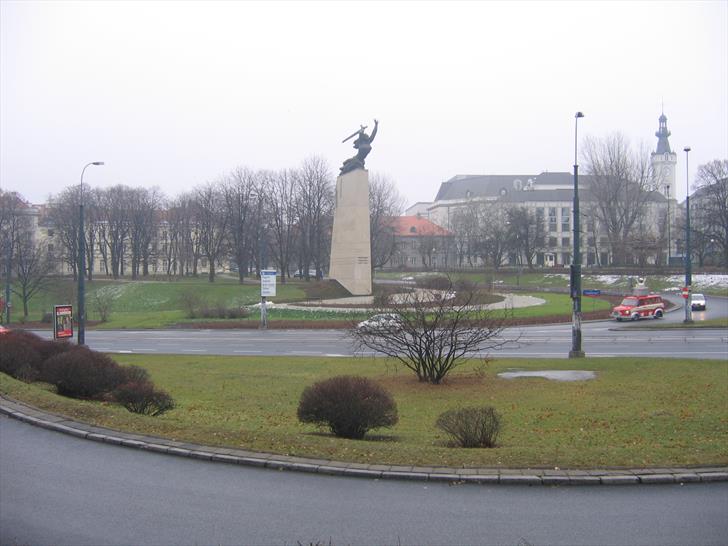 Nike: Greek Goddess in Warsaw
The monument features the Greek Goddess of Victory, Nike, with a sword. The iron statue of Nike is about 5 metres tall and stands on an even taller sandstone pedestal, making it the dominant feature of the whole large area around.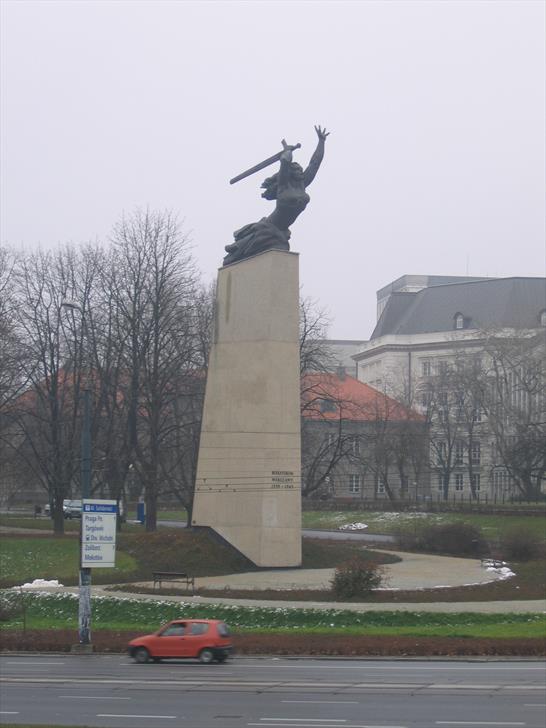 Warsaw Nike Monument History and Location
Warsaw Nike Monument was first erected in 1964 at Plac Teatralny (Theatre Square), where it became a popular point of gatherings commemorating the Warsaw Uprising and the War in general. In 1999 Plac Teatralny underwent a major renovation and Warsaw Nike Monument was moved by a few hundred metres to its current location next to Aleja Solidarnosci, a busy road going east-west through inner Warsaw (near the Nike Monument the road enters a tunnel under the Old Town).
Getting to Warsaw Nike Monument
Warsaw Nike Monument is located very close to the most popular tourist attractions like the Old Town Square, the Royal Castle, or the Presidential Palace, but slightly off the main tourist path. At Plac Zamkowy (Castle Square) take Senatorska Street and in 2-3 minutes you should see the Nike Monument.