The main bus station in Marrakech is called Gare Routiere de Marrakech in French and also known as Bab Doukkala Bus Station. It is situated at the north-western edge of the medina (the old town). It is a very busy place during the day – and long into the night as well. On this page I have tried to summarize useful information for visiting or travelling from/to Bab Doukkala Station.
This is how the terminal building looks: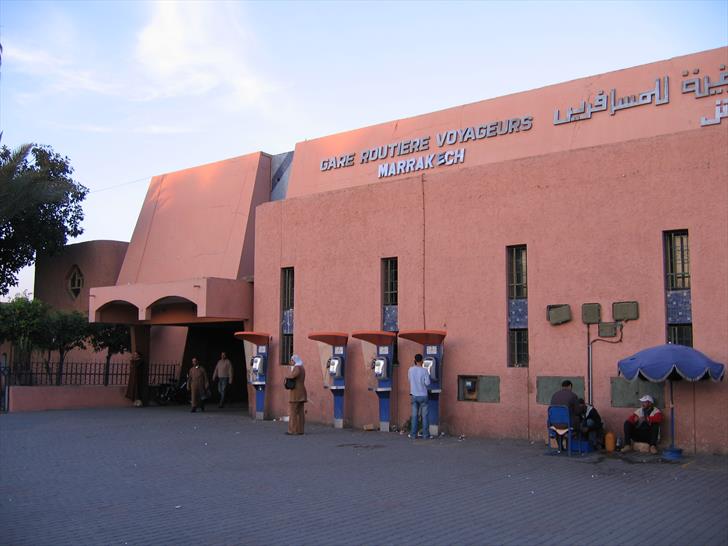 Marrakech Bus Station Directions
Marrakech Bus Station is located within easy walking distance from the main square, Djemaa El Fna (10-20 minutes, unless you get lost in the medina). On the other side, the wide and busy Avenue Hassan II connects the bus station with Marrakech Train Station (also about 10-20 minutes walk).
If you have luggage, you can take a taxi (just say "bus station" and the driver will know). Naturally, besides the long-distance buses there is also outstanding coverage by local Marrakech buses – they stop in front of the main entrance of the bus station.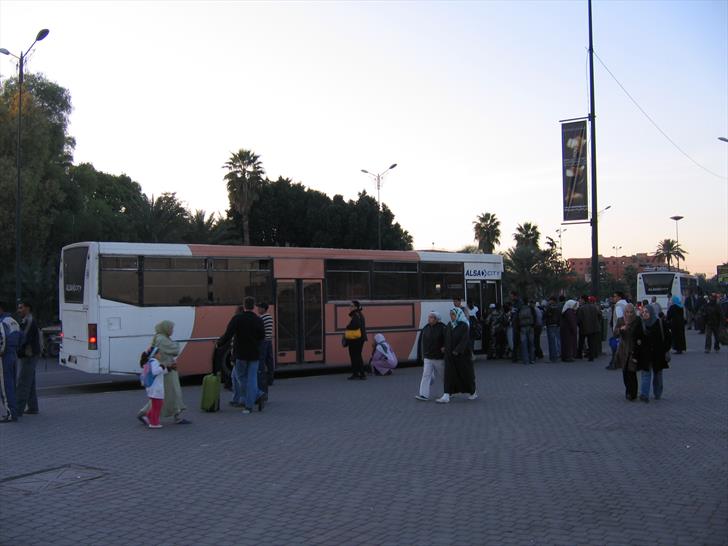 How to Buy Bus Tickets in Marrakech
Bus tickets in Marrakech are easy to get. As soon as you approach the bus station, bus ticket sellers start approaching you and trying to take you to some stand. Don't be afraid of them – most of them can be very helpful. Nevertheless, it is always good to know the approximate price to your destination in advance (e.g. ask in your hotel) to avoid rip-offs. Also make sure you are capable of saying No and won't end up buying something you didn't want (like a trip to waterfalls or Sahara).
Usually it is also possible to buy tickets directly from the driver – unless the bus is full of course.
Buses and Destinations
There are many different bus operators at Marrakech Bab Doukkala station. Marrakech as one of the most important cities in Morocco has excellent bus connection to virtually all other big cities – the most popular destinations are Agadir, Essaouira, Casablanca, Rabat, and Fes. The quality of buses varies – it can range from super modern to just about to fall apart. Check if your bus has air-conditioning.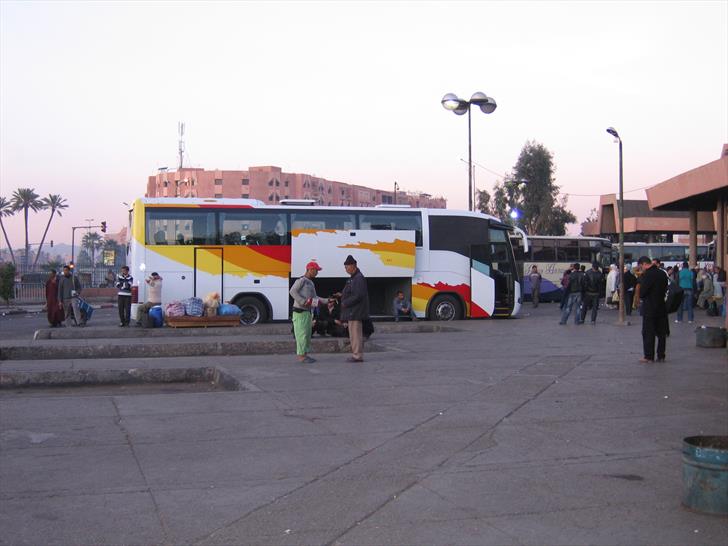 Just be careful: Some buses (especially Supratours) don't depart from the central bus station, but from other places in the city.
Supratours and CTM Buses in Marrakech
Supratours buses (the bus service operated by the Moroccan state railway company ONCF and probably the best-quality service in Morocco) depart from Marrakech Train Station (not the Bab Doukkala central bus station).
Another big state-owned bus company is CTM, which also has high-quality buses. They do have an office at Bab Doukkala bus station, but their primary office is Gare Routiere CTM, Rue Abou Baker Seddik. Always make sure you know where your bus departs from in Marrakech before it's too late.
Hotels near Marrakech Bus Station
Marrakech Bus Station has a very good location for you if you want to explore both the medina and the new town (Gueliz), as it stands where one ends and the other begins. Good hotels in Marrakech new town can be found especially along the Avenue Mohammed V or Avenue Mohammed VI. Orientation in Marrakech is much easier if you are at least a little familiar with Moroccan Kings: Mohammed VI is the present King of Morocco, his father was Hassan II (his avenue is the one ending at the bus station), and grandfather was Mohammed V.