Tanneries are often included on tourist attraction lists of the big old Moroccan cities and Marrakech is no exception.
Tanning is a process of exposing leather to various chemical substances in order to make it durable (so it won't decompose) and suitable for making leather products such as belts, shoes, or bags. Tanning also often involves colouring the leather.
The tanneries in Marrakech, Fez or other Moroccan cities can show you how tanning was done in the past (and in Morocco these tanneries are actually how it is still done today).
Photos of Marrakech Tanneries
The big tannery in Marrakech medina: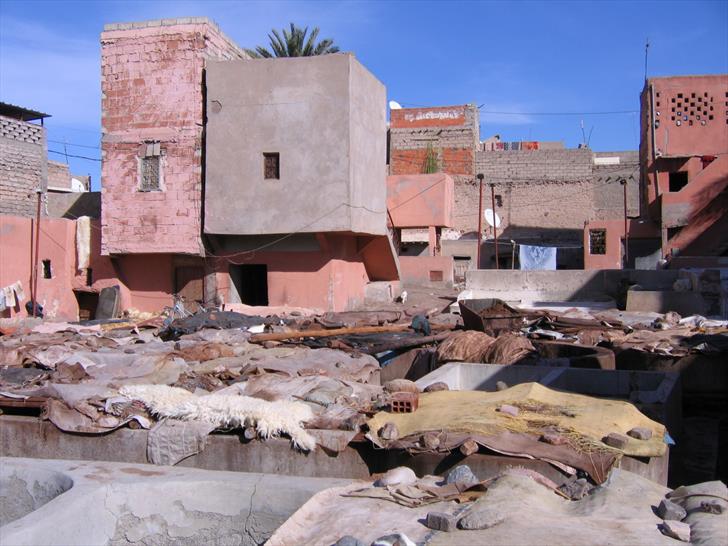 You will get a direct view of the working process in the tannery: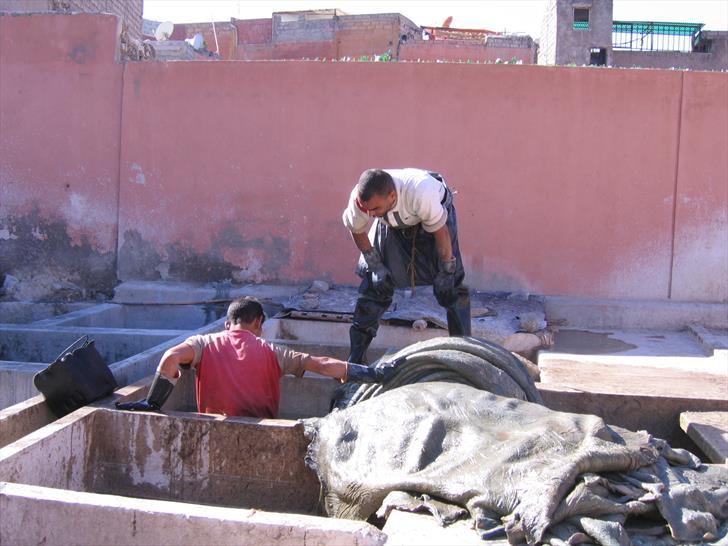 How to Visit Marrakech Tanneries
The typical Moroccan leather tanneries are located in the north-eastern part of Marrakech medina close to the city walls. The neighbourhood looks less touristy and poorer than the areas near Djemaa El Fna and Koutoubia Mosque and it may also seem quite unorganized to a foreigner. In other words, it's quite likely that you will get lost one or more times. When you ask locals about the tanneries, someone will soon offer to show you way.
The Cost of Having a Guide in the Tanneries
Having a local guide is an effective way to avoid getting lost on your way to Marrakech tanneries, but be prepared for your guide to expect to be paid (even when he first tells you he's a student or your "friend"). Be prepared for your guide to get angry when you eventually pay him – from the experience of many tourists, whatever amount you pay, it is not enough for these unofficial guides.
If you find your way to the tanneries yourself and talk directly to the tannery owner, he will usually give you a few mint leaves (to offset the smell) and give you a tour with a little explanation. The usual and fair price for a good tannery tour is about 50 dirhams, though they may ask for more. Remember it's all about bargaining in Marrakech.
Marrakech Leather Shops
After visiting the tannery it is likely that your guide will try to push you into one of the leather shops, so he can get a commission from the shop owner. The shops are not bad and the products sold are often good quality. Just make sure you won't end up buying something you didn't want, because the shopkeepers in Marrakech are very good at their job (they will disarm you with mint tea and friendly conversation).
One final note: Looking for accommodation anywhere close to the tanneries is not a good idea, for obvious reasons – the smell.